Shareholders of shell company Atlas Crest Investment have approved a merger with US air taxi developer Archer Aviation, putting that company on track to become publicly traded on 17 September.
Atlas Crest, a "special purpose acquisition company", says its shareholders approved the business combination on 14 September. SPACs are public companies established for the purpose of bringing promising start-ups public.
Following a planned 16 September merger, the resulting company will take the Archer name and trade on the New York Stock Exchange the following day, Archer says.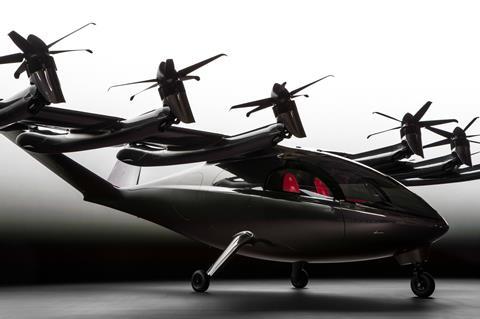 The Palo Alto-based company is among several aerospace start-ups – many of them air taxi developers – that pursued go-public plans this year by combining with SPACs.
Archer is developing a four-passenger electric vertical take-off and landing (eVTOL) aircraft, which it aims to have certificated in 2024.
"Archer is now assuming its place as one of the only publicly traded eVTOL companies," Archer says on 14 September. "The business combination brings invaluable capital as Archer develops its all-electric aircraft."
In February, Archer said United Airlines committed to purchase its aircraft. In June, Archer unveiled a two-seat demonstrator called Maker, which has 12 wing-mounted rotors, 52nm (96km) of range and can cruise at up to 130kt (241km/h).
Archer in February announced its intention to merge with Atlas. At the time, Archer pegged its enterprise value at $2.7 billion. But in July the company slashed the figure 38% to $1.7 billion. Despite the change, Archer has said its manufacturing, sales and pricing plans remain unchanged.
Several small aerospace companies this year have pursued mergers with SPACs. In August, California eVTOL developer Joby Aviation went public after merging with a SPAC called Reinvent Technology Partners.
Another US company, Lilium, is working to merge with SPAC Qell Acquisition, and UK company Vertical Aerospace intends to merge with Broadstone Acquisition.