Urban air mobility company Archer Aviation says the US attorney's office has ended an investigation into one of its employees after a competitor claimed intellectual property theft.
The employee, Jin Xue, had worked at Boeing-backed Wisk before taking a job at Archer. Wisk, also an air-taxi company, had accused its former employee of stealing information and trade secrets for an in-development electric take-off and landing (eVTOL) aircraft before he left the company.
Wisk maintains that information helped Archer develop its own eVTOL in lightning speed, leading to an acrimonious high-stakes legal battle between the Silicon Valley start-ups.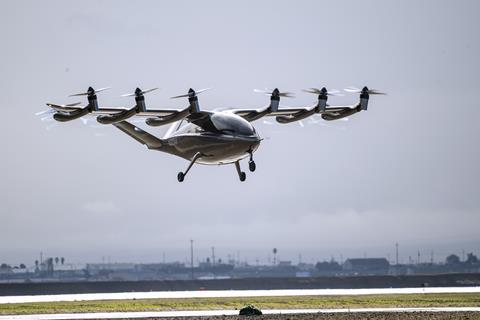 "We are pleased with the expeditious and thorough nature of the investigation that was conducted and the decision not to pursue charges against Dr Xue," says Andy Missan, Archer's chief legal officer. "We believe the US Attorney's decision strikes at the very heart of Wisk's trade secret allegations against Archer and reinforces what we have said all along: that Boeing's joint venture, Wisk, misused the judicial and criminal justice systems for the sole purpose of stifling innovation. We find these kinds of anti-competitive tactics by big business deeply disturbing."
He adds that Wisk's claims "lack any factual basis".
Mountain View-headquartered Wisk sued Archer in April, claiming intellectual property theft and patent infringement. Archer counter-sued two months later, asking a federal judge to award damages stemming from Wisk's suit. Wisk then asked for an injunction to prevent Archer from continuing work on its prototype. In July, the court dismissed Wisk's motion. In August, Archer filed a motion seeking $1 billion in damages.
For its part, Wisk says Archer's demands for compensation are "ludicrous" and the company's "troubles are self-inflicted".
Wisk's 12-propeller, two-passenger demonstrator aircraft, called "Cora", is currently in flight testing. The prototype's range is just 25mi (40km) but the company says its eventual operational "sweet-spot" will be flights between 25-65 miles.
Wisk said earlier this week it will begin a second phase of airspace integration trials in New Zealand in the first half of the year, as it also works towards the final design of a certifiable autonomous passenger vehicle.
Last week, Boeing pledged another $450 million to Wisk, bringing its certification and engineering expertise to the programme.
Archer's in-development eVTOL, called "Maker", made its first flight in December. The company aims to unveil a four-seat version this year and anticipates having that aircraft certificated for passenger operations by 2024. United Airlines has committed to purchase 200 of the aircraft.