Triumph Group has completed the divestment of three aerostructures manufacturing sites to private equity company Arlington Capital Partners, which has renamed the businesses Qarbon Aerospace.
The deal closed on 10 May, around nine months after it was disclosed by Pennsylvania firm Triumph and Maryland-based Arlington Capital. The companies have not revealed the transaction price and did not respond to requests for more information.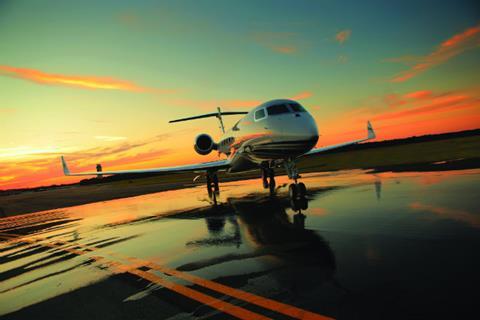 Under the deal, Arlington Capital has acquired Triumph's composite manufacturing facilities in Milledgeville, Georgia and Rayong, Thailand.
Those operations produce "structural and engine composite fabrications and assemblies" for commercial, business and military aircraft, Triumph says.
In addtion, Arlington Capital has purchased a Triumph site in Red Oak, Texas that produces "large, complex composite and metallic structures, such as wing, empennage and fuselage assemblies". Combined, the operations employ some 900 staff.
"Arlington Capital Partners plans to continue operations at all three locations under the business name Qarbon Aerospace and will maintain the leadership and employees currently supporting the business," Triumph says.
Pete Wick, who formerly led Triumph's aerospace structures businesses as executive vice-president, has become chief executive of Qarbon.
"Qarbon Aerospace has vertically integrated manufacturing capabilities from component fabrication through large-scale assembly as well as proprietary thermoplastics technologies," Arlington Partners says.
"The company has long-standing relationships with blue-chip OEM customers and a diversified product portfolio across a variety of successful commercial, defence and business jet platforms."
Arlington Capital's investments target "government-regulated industries and adjacent markets, such as aerospace and defence", according to its website.
The private equity firm's managing partner Peter Manos describes Qarbon as "a global tier one supplier with a rare technological competency and scale to manufacture a variety of very large, complex fabrications and assemblies across all structural sections of the aircraft and engine nacelles".
He cites Qarbon's "advanced composite manufacturing techniques and proprietary thermoplastics technology".
Triumph initially disclosed in August 2020 that it had reached an agreement to sell the Milledgeville and Thailand sites to Arlington Capital, expanding the deal in February to include the Red Oak facility.
The sale continues a broader divestment by Triumph of aerostructures businesses. Triumph's financial documents note that, from fiscal years 2015 to 2019, its aerostructures business accumulated losses stemming from work related to the Gulfstream G650 and G280, and the Boeing 747-8.
In August 2020, Triumph sold to Gulfstream G650 "wing supply chain activity and engineering services", for proceeds of $52 million.
That followed the October 2019 sale of its Nashville-based structures assembly facility to TECT Aerospace for proceeds of $58 million. Also that year it transferred an Embraer E2 component manufacturing contract to AeroSpace Technology of Korea.
Outside of aerostructures, Triumph manufactures an array of aerospace components, including control cables, electronics, cockpit controls, fuel pumps, heat exchangers and gearboxes.