Then there were three.
Boeing has delivered to Atlas Air another 747-8 Freighter, leaving the airframer with just three undelivered 747-8Fs and bringing the jumbo jet's 50-year-plus production run one step nearer to the end.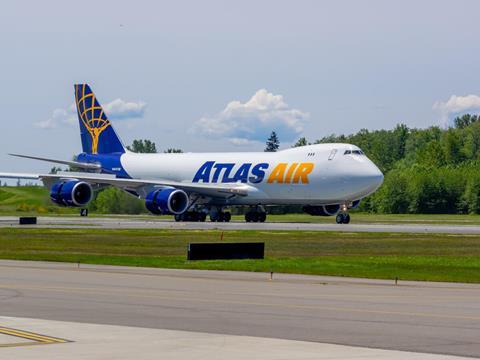 US air cargo carrier Atlas Air Worldwide Holdings disclosed the delivery on 2 June, saying the jet will enter service with its Atlas Air operating subsidiary.
Boeing confirms the hand-over leaves it will only three 747-8s still in the production process, all of which are scheduled for delivery to Atlas this year.
Once the last one lands in Atlas' hands, the 747 production line will go quiet.
The 747 has proved a remarkable enduring aircraft, even outlasting production by Airbus of its A380, which had been viewed by many as the type that would kill off the 747.
The first 747 took off on its maiden flight more than 53 years ago, on 9 February 1969. The US jumbo aged well, finding late-life demand as a freighter as the world's passenger airlines switched to operating more-efficient twin-jet widebodies.
Such forces led Airbus to stop producing A380s last year, only 14 years after that type entered service.
Since the start, Boeing has delivered about 1,570 747s of various designations, including 747-100s, 747-200s, 747-300s, 747-400s and 747-8s, according to the airframer's data.
Atlas will deploy its newly-received 747-8F on behalf of Cainiao, a logistics arm of Chinese retailer Alibaba.
"The addition of this 747-8F expands service for Cainiao between China, the United States, Brazil and Chile," Atlas says. "The iconic Boeing 747 programme has been in operation for over 50 years and will continue to play a critical role in keeping global supply chains moving for decades."