Turboprop manufacturer's chief executive argues that smaller airlines' problems risk being drowned out by the need for billions of dollars in bailouts for flag carriers, with deep consequences for the communities that rely on them.
It is undoubtedly indicative of the times we are living in, and the nature of the individual, that Stefano Bortoli, chief executive of ATR, both starts and finishes his interview with a plea for regional aviation.
More precisely, Bortoli – now in his second year in charge of the Airbus and Leonardo-owned turboprop manufacturer – is worried that amid the talk of billion-euro bailouts for the world's major carriers, regional aviation's voice is being drowned out.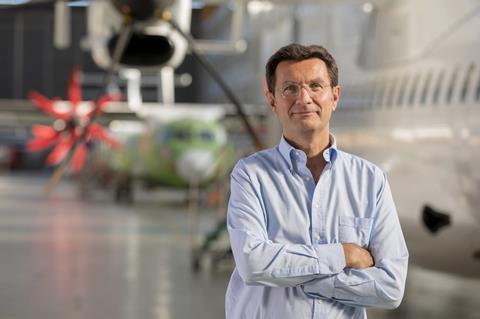 Large airlines, he says, "have been on the radar screen" of all governments, and consequently at the front of the queue for financial help, while their regional counterparts "have not been supported to that extent".
Because regional airlines are typically smaller and lack the "sophisticated" communications and lobbying teams of their larger brethren, the "critical role" they play in providing connectivity – from both social and economic perspectives – goes unrecognised, he argues.
"Regional aviation has been important in the development of many communities and this role has not to be forgotten," he says, noting that "it has been an engine of growth" globally.
"It plays an important role and needs to be supported to the same extent as national companies," he says.
Of course, there is a huge element of self-interest in this – after all, without a thriving regional aviation industry, ATR does not sell any aircraft.
Bortoli readily admits the "vested interest", noting that ATR is part of the "ecosystem of regional aviation". However, that does not make his call to action any less valid: for those reliant on the all-weather, year-round connections those operators provide, a healthy and functioning market is vital.
Although the world's flag carriers have been supported with large-scale capital injections, Bortoli thinks regional airlines require "more tailored solutions", potentially linking funding to product or performance improvements "to help them keep up with industry standards".
While on the one hand that could include reducing the cost of training flightcrew, it also inevitably encompasses fleet renewal.
"If you look at the aircraft that are in operation there are a number of ageing aircraft to be replaced with those that are more efficient, more affordable, have a lower environmental footprint and which give passengers a better flying experience," he says.
"Better" need not simply mean a nicer cabin, however; for regional passengers travelling relatively short sectors, better could mean a more reliable or quicker service, or one able to operate in a greater range of weather conditions. Those latter gains, argues Bortoli, could be achieved through the addition of aircraft with the most up-to-date avionics.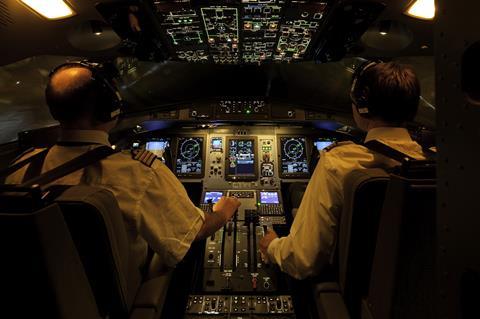 "As I said [ATR] has an interest, but it's an interest that connects with the interests of local communities and a number of other stakeholders," he says.
Covid-19 has upset the plans of each and every aerospace chief executive this year and Bortoli is no exception. Whatever strategy was to be rolled out has been replaced by firefighting, including the loss of over 200 jobs at the company.
"If you look at 2020 it has been a year of significant changes that have not been brought by me, but by a need to address the situation we are in," he says.
An economist by training, Bortoli was appointed to lead ATR in September 2018, joining from Leonardo's aircraft division where he had held the position of senior vice-president of strategy and sales since 2017, as well as president of ATR's board. Although he also had a four-year stint at Leonardo Helicopters, he also previously worked for Alenia – one of several businesses that would eventually go on to form the aircraft division.
It is the norm in aviation that most participants face at least one close competitor in the segment in which they operate. That is as much the case for Leonardo Helicopters as it is for Boeing or Embraer, but ATR is in the unusual position of having a virtual monopoly in regional turboprops.
ATR has for several years beaten its nearest competitor, the former Bombardier Dash 8 Q400, by a considerable margin in terms of both orders and deliveries.
In 2019, for example, ATR delivered 68 aircraft and took in 65 orders, against respective figures of 19 and 15 for the Canadian turboprop.
Of course, that aircraft has gained a new lease of life under the ownership of De Havilland Canada – and there are emerging threats from China and Russia - but at present the ATR 42- and 72-600 enjoy a de facto stranglehold in the sector.
That would normally be something to shout about, but with the hammering that commercial aviation is taking from the coronavirus crisis, Bortoli is in no mood to crow; 80% of next to nothing doesn't amount to much, after all.
But once the pandemic has abated, perhaps the biggest concern for airlines, particularly for those more visibly serving local communities, will be an environmental one. Like it or not, a carrier's green credentials will in future be another performance benchmark. And, in many cases, government bailouts are also contingent on an airline cutting its greenhouse gas emissions.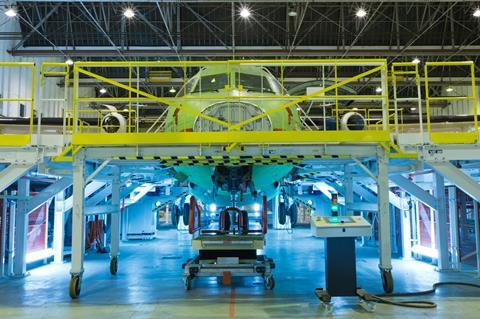 To an extent, the introduction of new aircraft will help achieve that goal, and Bortoli is also quick to point out that a turboprop burns less fuel than a comparably sized jet. But given the focus on a post-Covid-19 reset of aviation, this seems unlikely to placate those treating aviation as a polluting punchbag.
So what can ATR offer? In the short term, little beyond "incremental improvements", admits Bortoli, noting that the engines and aerodynamics of its aircraft are already "very efficient".
However, that is not to say the airframer is content with the status quo: discussions are under way between the company and its joint shareholders over plans to develop low-emission technologies on the twin-turboprop.
Bortoli says that talks with its owners Airbus and Leonardo are ongoing "so they could consider ATR as a platform on which new technologies could be introduced".
Airbus in particular has in recent weeks been vocal about the need to decarbonise aviation and has unveiled design concepts for a trio of hydrogen-powered aircraft.
Bortoli believes the ATR 42 and 72 are ideal platforms on which to trial new technologies, likely some form of hybrid-electric propulsion, although this could also cover a possible hydrogen fuel-cell-based powertrain.
"There are a number of solutions we have explored so far that we have reviewed with our engineering department and I think we see a hybrid aircraft as a solution – then it is a matter of what hybrid mean in terms of different elements," he notes.
While he says it is "too early to say" what fuel would be used on such an aircraft or its configuration, "we believe the ATR has the dimensions and size as a platform to be considered as the right platform to test future concepts to reduce emissions or come to a zero-emission aircraft".
Bortoli hopes that a "way forward" can be agreed by the shareholders "by the beginning of 2021".
Launching its support package for aviation in June, the French government identified the development of a "decarbonised regional aircraft" – for service entry in 2035 – as a project which would attract funding support.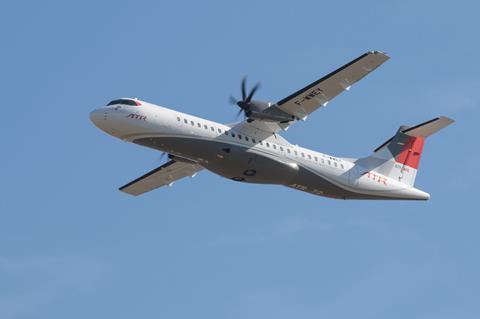 However, despite its Toulouse headquarters, ATR is not "100% French", says Bortoli, and while Airbus is discussing how the turboprop manufacturer could join that effort "for the time being we cannot confirm or deny direct participation in such a plan".
In addition, ATR is working with long-term customer Air New Zealand to identify what changes would be required to an airline's operations, such as maintenance or training, to facilitate the uptake of new propulsion technologies.
But with a new propulsion system likely to be 10-15 years away, ATR faces the dilemma of how to markedly improve the aircraft's environmental performance in the interim.
One solution could be sustainable aviation fuel, which the manufacturer has previously trialled, blended 50/50 with kerosene, during a series of test flights in Sweden.
While the environmental benefits of SAF are clear, its uptake is hampered by it costing three or four times as much as conventional jet fuel. "We have to make more SAF available at a reasonable price," argues Bortoli.
And, if the decision is made to go for a new propulsion system, it also makes it very unlikely that any conventional replacement of the ATR's Pratt & Whitney Canada PW127M will be contemplated as an interim step.
"Any investment for the future is a sizeable one," Bortoli says. "And to have a sound business case with the size of the regional market – you cannot invest in a new engine and then also think of a hybrid aircraft. They are alternative options: one or the other.
"Even if it is 15 years away, you would not be able to recover the investment spend on a new engine."
Bear in mind too, that ATR's engineering resources are not infinite: current developments include a new-build freighter variant of the ATR 72-600 and a short take-off and landing derivative of the ATR 42-600.
"Over the next two to three years we have enough on our plate and we would not have the engineering capability to develop more than this," he says.
These two projects will offer "good solutions to different market segments", says Bortoli, which can "address the most important needs of our operators worldwide".
The freighter in particular is gaining "significant interest" and the manufacturer is hopeful that it can add to its launch order from FedEx for 30 firm and 20 options. "We are coming to the market at the right time," he adds.
First shipment of the ATR 72-600F will be this year, and should help to bolster the airframer's performance in 2020. However, Bortoli declines to offer a delivery forecast, beyond noting that it will be short of the previous year's total.
"It is not as it was in 2019, but we are continuing our efforts."
While ATR's current market dominance is likely to continue in the short term, albeit with lower deliveries than previously, there are a number of start-ups looking to enter the segment. And while the cost of bringing a new aircraft to market remains considerable, developing a new regional turboprop is arguably cheaper, and more achievable, than trying to do the same with a 150-seat jet.
Bortoli points out that new market entrants will have to "suffer a little bit in terms of time" before they gain traction and, he says, ATR is already considering what its next move should be.
"We are uniquely placed to face any competition," he says.