ATR has outlined big ambitions for the Japanese market, anticipating significant ATR fleet growth in the next few years.
The turboprop manufacturer's hopes for Japan appear to rest on the new Pratt & Whitney PW127XT engine, sustainable aviation fuel (SAF), as well as the company's developmental short take-off and landing (STOL) version of the ATR.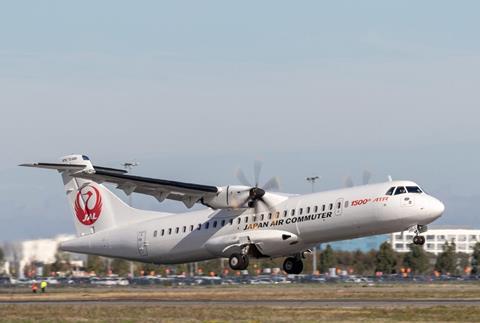 "We see 100 ATR aircraft flying in Japan in a few years," says ATR chief executive Stefano Bortoli.
"Air transport is crucial for the archipelago, where air routes are essential for domestic travel and transportation. We want to help ensure that aviation contributes to a prosperous future for Japan by connecting its regions ever more sustainably and affordably. Most of the new ATRs will replace older, less efficient models, and will connect islands and remote regions with the country's major cities."
The company claims that ATRs "burn 40% less fuel and emit 40% less CO2 than similar size regional jets." ATR says this is consistent with Tokyo's overall aim to cut emissions 46% by 2030. It also notes that new PW127XT will be able to use 100% SAF.
Revealed at the Dubai Airshow in 2021, the PW127XT will be standard on all new ATRs from late 2022, with Air Corsica the launch customer for the new engine with an order for five aircraft. The updated engine will also be retrofittable to legacy ATRs.
At Dubai, ATR said that the new engine promises a 3% reduction in specific fuel burn, time on wing extended by 40% and maintenance costs reduced by 20%. The PW127XT is also capable of running on blends of up to 50% SAF, with a goal to reach 100%.
Fifteen ATRs are in service in Japan, serving with Amakusa Airlines, as well as Japan Airlines units Japan Air Commuter and Hokkaido Air System. Toki Air and Oriental Air Bridge are also poised to start operating ATRs.
According to Cirium fleets data, there are 113 turborprops and regional jets in service with Japanese Airlines. These include 32 De Havilland Canada Dash 8 Q400s and 51 Embraer E-Jets.
"Japan and ATR are a great match," says ATR senior vice president commercial Fabrice Vautier.
"The Japanese airlines that operate ATR aircraft can connect all regions, even remote ones, to larger hubs in Japan in a sustainable manner, thanks to the unique combination of low operating costs and low emissions. Soon, with the Short Take-Off and Landing version of our aircraft, we will contribute to serving even smaller airports across the Japanese archipelago: there are 10 airports in Japan with short airstrips that provide vital links for those communities."
The STOL variant of the ATR 42-600, the ATR 42-600S, conducted its maiden flight on 11 May from Francazal airport near Toulouse. The 30- to 50-seat aircraft, designated the 42-600S, is designed to operate to and from reduced-length runways.