ATR is gearing up to launch the Evo, a new hybrid-electric variant of its best-selling turboprop family, which will slash fuel burn by 20% over current models.
To arrive no later than the end of the decade, the Evo will also benefit from an aerodynamic clean-up, an eight-bladed propeller, a revamped cabin, plus other system improvements across the aircraft.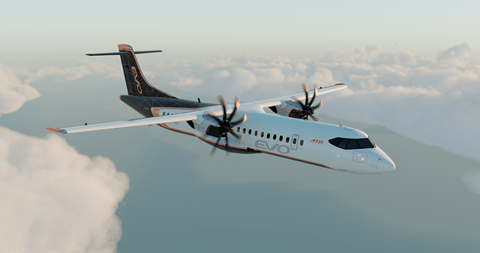 ATR shareholders Airbus and Leonardo have approved the start of feasibility studies covering the development, which should enable a programme launch in 2023.
As part of that process the airframer has issued a request for information (RFI) to the major engine suppliers, seeking a new turboprop powerplant for the aircraft.
This should incorporate "mild hybrid" technology, says Stephane Viala, senior vice-president of engineering, which will use batteries and an electric motor to supplement the conventional engine during the take-off and climb phases of flight. That will allow the size of the thermal engine to be better optimised, he says. The new powerplant should also be capable of running on 100% sustainable aviation fuel (SAF).
Additionally, the powertrain should be "future-proofed", says Viala, with "provisioning" to permit replacement of the batteries over the longer term, potentially with a hydrogen fuel-cell system as that technology matures.
Service entry for the Evo will be in 2030 "at the latest", says Fabrice Vautier, senior vice-president, commercial, noting that the exact timing "depends on what we discuss with the engine manufacturers", as "we really want something that's a step-change [in performance]".
The RFI is due to run until the end of June, when more detailed discussions with the propulsion providers will take place. However, ATR has already canvassed their opinion to ensure "they were motivated to come on this journey", says Viala.
ATR last November committed to incorporating the latest version of incumbent engine supplier Pratt & Whitney Canada's PW127 onto the ATR 42-600 and 72-600. To become standard equipment on all new-build ATRs from the final quarter of this year, the 2,750shp (2,050kW)-rated PW127XT-M promises a 3% reduction in specific fuel burn, time on wing extended by 40% and 20% lower maintenance costs.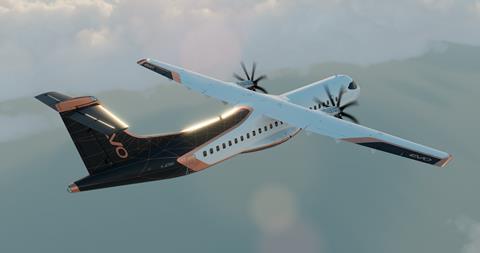 But Vautier acknowledges there is increasing pressure to go further: "Decarbonisation is a key topic in many of our markets," he says.
In addition, a clutch of new market entrants could imperil ATR's market dominance. Fuel cell powertrain developers Universal Hydrogen and ZeroAvia have both announced they will look to retrofit ATR aircraft with their systems in future, while Embraer is also threatening its own clean-sheet turboprop.
Vautier denies that ATR's move is a response to these emerging threats, adding: "We are the market leader and we have a proven product that we have constantly evolved – that evolution is in our DNA. Obviously we look at the competition but we are going our own way. We will continue to do what we have done for the last 40 years."
However, Airbus is also pushing ahead with several zero-emission aircraft under its ZEROe initiative, including a sub-100-seat hydrogen-powered turboprop, which could enter service from 2035 onwards, just five years after the ATR Evo is scheduled to arrive.
But Vautier is unconcerned by the potential competition from its own shareholder, pointing to the remote locations and the nature of the markets served by its customers.
"We see that there is quite a significant period of time before these disruptive technologies can be brought to our customers, to these small communities, at an affordable price."
Aside from potential infrastructure constraints, Vautier points out that these are highly price-sensitive markets, where a passenger's ability to travel rests on the cost of the ticket.
"Our aircraft will address mature markets with this hybridisation and SAF capability and it will keep its fundamentals for markets where the cost per seat will be important. We see there is no reason why we cannot operate a conventional turboprop or mild-[hybrid] turboprop far beyond 2030."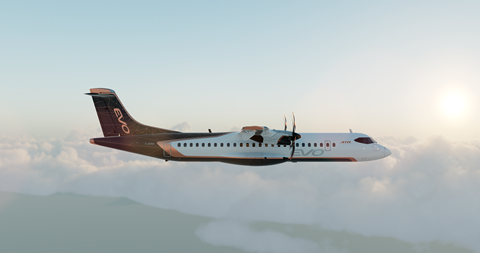 Additional improvements that could potentially make their way onto the Evo include a thermal de-icing system to replace the current pneumatic de-icing boots, an eight-bladed propeller to replace the current six-bladed Collins Aerospace model, and an advanced FADEC system to manage the engine and propeller together via a single lever.
"We are working on a potential revamp of the cabin, saving weight… and introducing recycled materials such as carbonfibre or using bio-sourced resin and natural fibres such as flax… for the interior of the aircraft," says Viala.
An aerodynamic clean-up will focus on some of the "secondary structures" on the aircraft, such as the nacelle-wing junction. However, ATR sees no changes to the primary structures and will maintain the payload and range figures of the existing ATR 42-600 and 72-600, plus their short-take off and landing and freighter variants.
To provide input on the development, ATR will convene a customer advisory panel over the summer, which will "support us in making the right choices", says Viala.
ATR declines to say which propulsion manufacturers have received the RFI: incumbent supplier P&WC will clearly be a candidate and Rolls-Royce has recently shown renewed enthusiasm for the civil turboprop market. GE Aviation could also be a contender, currently its most powerful civil turboprop engine is the CT7, which is rated at 1,700-3,000shp.
Reducing maintenance costs will be also remain a focus. Prior to announcing the Evo, ATR and Safran revealed a new diagnostic product system designed to slash aircraft downtime following a hard landing.
This story has been corrected to clarify GE's current largest turboprop.