Cyprus aircraft finance company AviaAM Leasing has become launch customer for Mammoth Freighters' cargo-converted Boeing 777-300ERMF, ordering six of the type.
Orlando-based Mammoth, one of several 777 cargo-conversion shops, disclosed the deal on 13 October, saying conversion work on AviaAM's first jet will start in early 2023.
Mammoth also offers cargo-converted 777-200LRs, having revealed that project's launch customer, Canada's Cargojet Airways, late last year.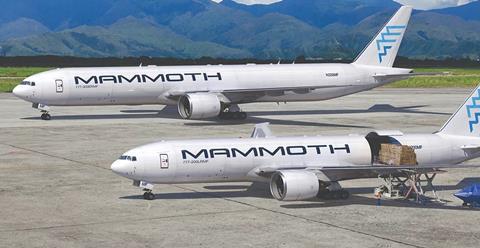 The companies say AviaAM will receive its first 777-300ERMF in 2024.
"As AviaAM expands its strategic focus in the cargo sector, the superior widebody operating economics of the Mammoth 777-300ERMF will perfectly complement their growing fleet of next-generation freighters," says Mammoth co-chief executive Bill Tarpley.
"We will meet the demand for widebody converted freighters, to replace ageing ones and accommodate future growth across our group airlines' fleet," adds AviaAM CEO Tadas Goberis.
Mammoth's partner, Texas-based Aspire MRO, will perform the conversion work at its Alliance airport site in Fort Worth.
AviaAM is part of aerospace services firm Avia Solutions Group, also based in Cyprus. The lessor owns 32 aircraft, including Airbus A319s, A320s, A321s, Bombardier CRJ200s, 737-300s, 737-800s, 747-400Fs and 777-300ERs, according to its website.
"Having completed multiple 737-800 passenger-to-freighter aircraft conversions this year, AviaAM is making major investments in multiple freighter types as it continues with its expansion plans in the air-cargo market," the companies say.
Mammoth now holds orders from multiple customers for cargo conversions of 29 777s and is working to close orders for another 12 777-300ER conversions – discussions in "advanced stages of commitment", the companies add.
The US modification shop came onto the cargo-market scene several years ago when it revealed its 777-200LR and 777-300ER cargo-conversion programmes.
Its 777-200LRMF will be able to carry 105t of payload, while the 777-300ERMF's payload capacity will come in at 99t, according to the company.
Mammoth intends in 2023 to achieve a supplemental type certificate from the Federal Aviation Administration for its 777-200LR conversion.
Other companies selling 777 cargo-conversions include Israel Aerospace Industries and Kansas Modification Center, which is working with Wichita aircraft engineering, modification and overhaul shop NIAR WERX.
Story corrected on 13 October to include revised information from Mammoth about its total number of 777F orders, and about deals in stages of negotiation. Story updated on 14 October to include delivery timing.