A Boeing 737 Max 7 took off from Seattle on 4 August and is headed to China, where the jet will participate in work related to that country's 737 Max certification, an industry source says.
Bloomberg first reported the news, which FlightGlobal has confirmed.
Flight tracking website Flightradar24.com shows a 737 Max 7 took off from King Country International airport-Boeing Field shortly after 08:00 local time, bound for Kalaeloa airport near Honolulu, where it is scheduled to land at about 10:40 Hawaii time.
The jet will then continue to China, according to Bloomberg.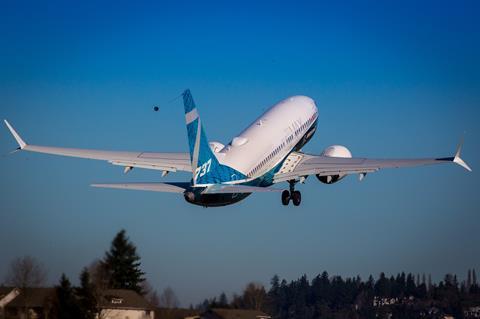 Chicago-based Boeing declines to comment about the flight.
"Boeing continues to work with global regulators as they complete their validation processes in order to better understand enhancements to the airplane", the company says.
Boeing owns the aircraft, which has registration N7201S. The jet is registered by the FAA as an "experimental" type; the agency has not yet certificated the Max 7 variant of the narrowbody.
Boeing expects that certification will come in time for it to begin delivering Max 7s in 2022.
News of the flight to China is a major development for Boeing and the broader aerospace industry.
While more than 160 countries have lifted the Max's grounding, China, with a massive airline industry, remains a notable holdout. Aerospace analysts widely view China's lack of action in clearing the Max as fallout from its ongoing trade war with the USA, and larger China-US political conflict.
In July, news broke that Chinese regulators were willing to conduct 737 Max flights, and Boeing chief executive David Calhoun has predicted the countries will lift the grounding before year-end.
Calhoun has said Boeing's plan to increase 737 Max production may rest on China lifting the type's grounding by mid-year. He has said Chinese customers will likely account for 25% of aircraft demand in the coming decade.
Boeing is now producing 737s at a rate of 16 monthly and aims to boost production to 31 jets monthly by early 2022.