All Boeing 737 Max will be inspected for foreign object debris (FOD) prior to returning to revenue service, according to Boeing.
The Chicago-based airframer outlined the FOD issue in a recent update to its website page dedicated to the Max's return to service.
The web page reviews other updates, including those to the Max's Maneuvering Characteristics Augmentation System (MCAS) – the software implicated as a major factor contributing to two Max crashes.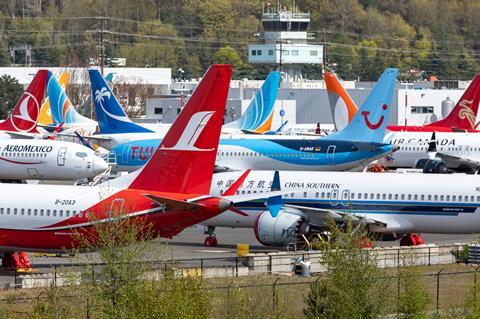 "All airplanes will undergo a FOD inspection prior to returning to service," says Boeing. "During routine maintenance on airplanes in storage, we found some instances of FOD."
The FAA on 10 November said it was days away from approving Boeing's 737 Max updates.
Boeing says it already inspected all Max aircraft it has in storage. It also "shared inspection recommendations and detailed instructions with customers storing their own airplanes".
Globally, airlines have some 390 Max in their fleets, according to Cirium fleets data. Boeing has stockpiled another roughly 450 completed jets amid the grounding, which took effect in March 2019.
"We also enhanced our training and procedures to reduce the likelihood of FOD," Boeing adds.
The FOD issue has affected various Boeing models. In April 2019, media outlets reported that FOD had been a recurring 787 issue, and the 767-based KC-46 tanker programme has been beset by reports of FOD.
In February, Boeing ordered inspections of undelivered 737 Max after finding debris in wing fuel tanks.