Boeing has beefed up its executive council with nine new executives, a move the company says brings more diversity, perspective and expertise to a top leadership panel.
The changes, which come as Boeing restructures in response to the industry plunge, add a broader range of executives to the company's leadership team. The executive council now expands from 12 to 21 members.
"These appointments build on prior actions designed to simplify and align our structure, sharpen our focus and move our leaders one step closer to our work," chief executive David Calhoun says in a 15 October letter to staff. "This larger and more dynamic group will bring new perspectives and foster healthy debate while driving strategic decisions."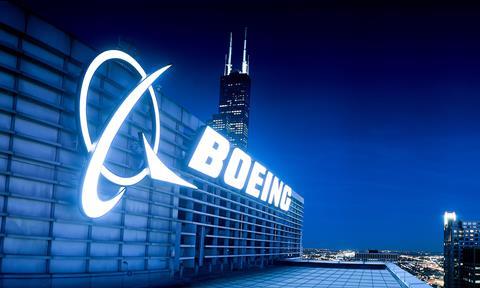 The changes add nine people, including several black executives and one woman, to Boeing's executive council, a group charged with conducting business and operational reviews and "deep dives into a wide range of strategic topics".
The additions include Boeing vice-president of supply chain in Boeing Global Services William Ampofo, chief compliance officer Uma Amuluru, general counsel and corporate secretary Grant Dixton, treasurer Dave Dohnalek, and vice-president of commercial airplane programmes Mark Jenks.
Also joining the group are two Boeing Defense, Space & Security executives: vice-president of total quality Tony Martin, and senior vice-president of total quality and operations William Osborne.
Boeing also picked chief sustainability officer Christopher Raymond and senior vice-president of enterprise finance Kevin Schemm to join the group.
Ampofo, Jenks, Martin and Osborne are already serving two-year terms as chairs of various Boeing "enterprise process councils", which the company created to streamline operations. Those executives will serve on Boeing's executive council through the remainder of their two-year chairs.
"The diversity of thought, background, experience and skill on [the executive council] gives me great confidence that we will continue to promote trust and transparency," Calhoun says.
The move comes after Boeing in August unveiled a "racial equity action plan" aimed at "confronting racism" and making the company more diverse.
Story updated on 19 October to note that Boeing's executive council expands from 12 to 21 members with the changes.