Boeing is calling on the administration of president Joe Biden to reinstate trade relations with China, saying aircraft orders from that country will be key to the airframer's long-term health.
On the Chicago-headquartered company's first-quarter 2021 earnings results call on 28 April, Boeing chief executive David Calhoun says the US aerospace industry depends on Chinese orders. The company wants to ensure the administration knows "the importance of getting the relationship right".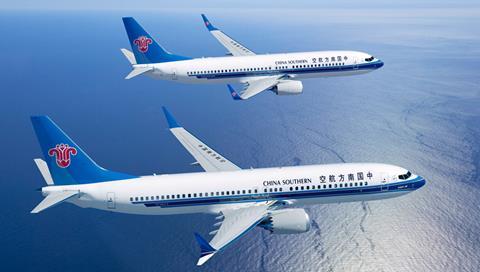 "It's time for us to point out the economics of trade with China," Calhoun says. "We need to get the order stream going again, I'm confident that that will happen, and this is the moment to begin to talk about it."
"It will eventually impact the recovery of our [production] rates," he adds.
A major related issue is re-certification of the 737 Max.
China has not cleared the type to fly despite the Federal Aviation Administration approving the Max five months ago following a 20-month grounding. More than 160 of 195 other countries' civil aviation regulators have followed the FAA's lead, but not China.
Some industry observers interpret this as retaliation by Chinese authorities.
Calhoun now expects China will re-certificate the Max in "the second half of 2021".
"We are still awaiting Max regulatory approval from China and the timing of it will affect our delivery plan," adds Boeing chief financial officer Greg Smith. "It's an important market and orders from China will affect future production rates."
China was the first country to clip the Max's wings by grounding the aircraft following two fatal accidents, in 2018 and 2019. China's civil aviation regulator said weeks ago that it has been discussing with Boeing a plan to restore 737 Max service. However, it added that it remains insufficiently satisfied to clear the jet, leaving China's timeline for lifting the Max's grounding uncertain.
China is a huge market for the narrowbody; at the time of the Max grounding in March 2019, 12 operators in that country had nearly 100 of the jets in service. Chinese carriers still hold orders for more than 200 of the jets, Cirium fleets data shows.
The biggest operator of the type is China Southern Airlines, with 24 examples currently in storage, and 34 more on order with the airframer.
Analysts agree the Max's long-term prospects in China remain strong because airlines there – indeed, airlines everywhere – will need the narrowbodies to expand in the decades following the pandemic.
Boeing's only real current competitor, Airbus, cannot produce enough A320neo-family jets to meet demand alone, analysts say. And while China's domestic aircraft industry continues maturing – notably Comac with its C919 – that jet has not yet been certificated or operationally proven.