Boeing has named board chair David Calhoun its next chief executive in succession to Dennis Muilenburg, who has resigned from the company.
Muilenburg has left his chief executive and board posts effectively immediately, though Calhoun will not take the struggling company's reins as CEO until 13 January 2020, Boeing says in a 23 December media release.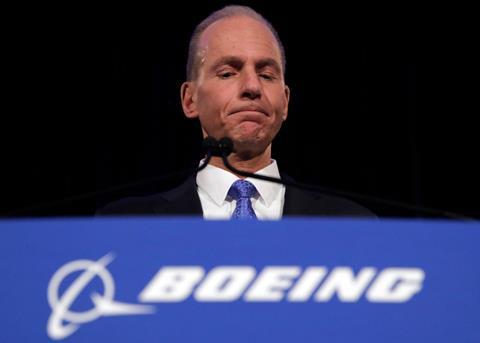 Boeing chief financial officer Greg Smith will serve as interim chief executive until Calhoun takes over, Boeing says.
"I strongly believe in the future of Boeing and the 737 Max," Calhoun says. "I am honored to lead this great company and the 150,000 dedicated employees who are working hard to create the future of aviation."
Calhoun has been a Boeing board member since 2009 and is senior managing director at private equity company Blackstone Group.
Previously, he worked for 28 years at General Electric, running that company's transportation, aircraft engines, reinsurance and lighting business units, Boeing says.
Calhoun was also board chair and chief executive of data and marketing company Nielsen Holdings.
"Not at all a big shock," Teal Group aerospace analyst Richard Aboulafia says of the leadership shift.
"Muilenburg wasn't exactly inspiring confidence, and the production line shutdown wasn't handled very well at all. Calhoun is well-respected and should provide short-term stability, although given his private equity background he might be the wrong person as the long-term manager of an engineering company."
News of Muilenburg's departure comes seven weeks after Calhoun defended embattled Muilenburg, calling the former chief "an asset" who "didn't create" the 737 Max problem.
But in the weeks since, Boeing's situation seemingly became more critical, with the Federal Aviation Administration's chief Steven Dickson criticising Boeing's 737 Max certification timeline as unrealistically optimistic.
One week ago Boeing announced it will temporarily halt 737 production in January, and major Max customer United Airlines delayed to June its expected return of 737 Max flights.
Boeing says the leadership change will "bring renewed commitment to transparency and better communications with regulations and customers in safely returning the 737 Max to service".
"The board of directors decided that a change in leadership was necessary to restore confidence in the company moving forward as it works to repair relationships with regulators, customers and all other stakeholders," Boeing's release says. "Under the company's new leadership, Boeing will operate with a renewed commitment to full transparency, including effective and proactive communication with the FAA, other global regulators and its customers."
Board member Lawrence Kellner, former Continental Airlines chief executive, will succeed Calhoun as head of Boeing's board, taking the title of non-executive chair.
Kellner says Calhoun has "deep industry experience and a proven track record of strong leadership, and he recognises the challenges we must confront".