The departure from Boeing of former chief executive Dennis Muilenburg could bring the company one step closer to getting the 737 Max back in the sky, analysts say.
But Muilenburg's resignation, announced 23 December, caught some observers off guard and spurred speculation that more leadership shifts may be in the works.
"The investor opinion of Mr Muilenburg had remained generally positive. However, we believe [Boeing] can now start to address some of the longer-term issues around its product portfolio and programme development efforts, and its communication around the Max should start to improve," says a 23 December research note from financial services company Canaccord Genuity.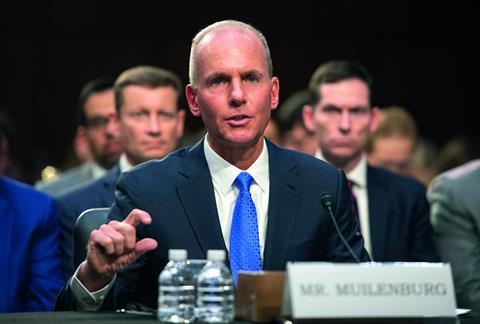 Muilenburg will be succeeded by board chair David Calhoun, who will take the CEO role on 13 January. Chief financial officer Greg Smith will be Boeing's top executive during the interim.
Calhoun, now senior managing director at private equity company Blackstone Group, will step away from his "non-Boeing commitments" before becoming CEO, Boeing says.
Canaccord calls Calhoun "well respected from his experience in the aerospace industry and specifically his history with GE. "We view his industry knowledge and credibility as a positive".
Also on 23 December, Boeing announced it had hired communications veteran Niel Golightly as senior vice-president of communications. Golightly, who most recently worked at Fiat Chrysler, succeeds Anne Toulouse.
Boeing already had announced that Toulouse intends to retire in 2020.
Analysts anticipate Calhoun's tenure as CEO will be temporary.
Michel Merluzeau, an aerospace consultant with AIR, suspects Calhoun will be a "placeholder", overseeing the company until the Max returns to service. At that point, he thinks Boeing's board will hire a someone fresh – and without links to the Max.
"New team, new Boeing," Merluzeau says.
Teal Group aerospace analyst Richard Aboulafia says Calhoun will "be good for short-term stability". But Calhoun's experience working for Blackstone and General Electric may not be an ideal fit for an engineering company like Boeing, Aboulafia says.
The leadership shift was not unexpected, but the timing was.
"We are surprised by the timing, as we expected Boeing to maintain its current leadership structure until the Max had successfully returned to service," says Canaccord. "However, the move points to the depth of communication issues and credibility Boeing currently has with regulators, customers, and politicians."
Muilenburg was roundly criticised in recent months for not adequately claiming Boeing's role in two 737 Max crashes, and for giving overly rosy projections of when regulators will clear the Max to fly.
It was Calhoun himself who led observers to suspect Muilenburg's departure was not imminent. In October, Calhoun praised Muilenburg's handling of the crisis. "He has our full confidence," Calhoun said at the time.
Boeing's stock price bumped up about 3% on 23 December following news of Muilenburg's exit.
The stock's movement likely reflects "the view that Boeing is now one step closer to" receiving approval from the Federal Aviation Administration, says Canaccord.
The CEO shift follows the October departure of former Boeing Commercial Airplanes CEO Kevin McAllister, who was succeeded by Stan Deal, formerly chief of Boeing Global Services.