Boeing is raising $25 billion in a multi-tranche bond offering, as it buffers liquidity amid an air travel downturn that could take years from which to recover.
In March, as the pandemic shut down air travel globally, Boeing had suggested that the broader US aerospace and manufacturing sector might require $60 billion in government support. The move prompted former governor of South Carolina Nikki Haley to resign from her seat on Boeing's board of directors.
It is suspected that some aid was set aside for the Chicago-based airframer as part of the $17 billion of funds made available in the CARES Act to businesses important to maintaining national security.
After raising $25 billion through the capital markets this week, Boeing says it will not seek state aid.
"As a result of the response, and pending the closure of this transaction expected Monday, May 4, we do not plan to seek additional funding through the capital markets or the US government options at this time," Boeing stated 30 April.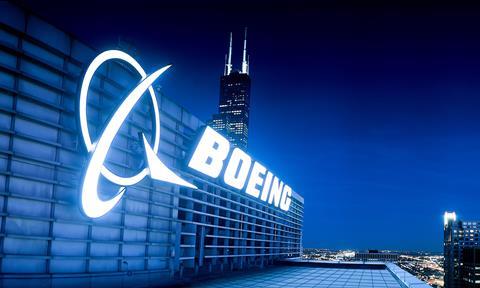 In its 28 April first quarter financial report, Boeing estimates it will "take 2-3 years for travel to return to 2019 levels, and a few years beyond that for the industry to return to long-term trend growth". Given all the uncertainties around what a recovery will look like, Boeing needs to ensure it has enough capital on hand to continue operations.
"Access to additional liquidity will be critical for Boeing and the aerospace manufacturing sector to bridge to recovery, and the company is actively exploring all of the available options," the airframer noted in its 28 April earnings release. "Boeing believes it will be able to obtain sufficient liquidity to fund its operations."
Boeing began the quarter with $9.5 billion in cash, drew down roughly $14 billion of its term loan on 11 March and ended the period with cash of $15 billion.
On April 10, Moody's Investors Service downgraded Boeing's senior unsecured debt rating to 'Baa2' from 'Baa1'.
"The coronavirus is likely to become a significantly greater pressure point on Boeing than the long-running 737 Max crisis," stated Moody's senior vice-president and lead analyst Jonathan Root.
Noting that the company's financials still met investment-grade rating criteria at 10 April, Root added that "the potential for order deferrals and cancellations is a material risk factor, fueled by expected significant reductions in airlines and aircraft lessors' fleet sizes and/or orderbooks for indeterminate time periods."
Since 1 January, at least 10 customers have cancelled orders for nearly 300 Boeing 737 Max jets, according to Boeing and customer data.
For the first quarter, Boeing disclosed total revenues down year-over-year by more than a quarter to $17 billion, with commercial jet revenues down nearly half to $6.2 billion.