Boeing removed 313 aircraft from its backlog in March due the impact of the coronavirus pandemic, accounting adjustments, and 150 737 Max cancellations, including newly disclosed terminations by Brazil's Gol and Czech carrier Smartwings.
During the month, Boeing received 31 new aircraft orders - 18 for military conversion programmes - resulting in a net backlog impact of negative 282 aircraft, it says.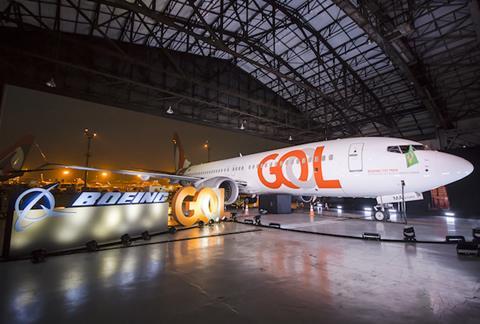 The figures include 150 Max cancellations during the month: 34 aircraft by Gol, five by Smartwings, and 36 from undisclosed customers. An additional 75 aircraft are covered by a previously announced cancellation from lessor Avolon.
Additionally, during March Boeing removed 163 aircraft, including 139 Max, from its backlog to comply with so-called "ASC 606" accounting requirements. The company still holds contracts with customers for the sale of those jets but has less confidence the orders will close.
Boeing says the 150 Max cancellations partly reflect its own efforts to ease the immense pressure it faces to deliver delayed 737s.
"These adjustments remove near-term pressure on Boeing's skyline, providing more flexibility to deliver on the more than 4,000 Max airplanes in backlog and protect the value of the Max family," says the airframer.
Boeing says the March results also reflect the impact of the coronavirus pandemic, which has hammered airlines, leading them to ground thousands of jets.
"The airline industry is confronting the Covid-19 pandemic and the unprecedented impacts on air travel," Boeing says. "We are working closely with our customers, many of whom are facing significant financial pressures, to review their fleet plans and make adjustments where appropriate."
Boeing adds that it "continues to adjust its orderbook to adapt to lower-than-planned 737 Max production in the near term".
Boeing's 31 new aircraft orders in March included 12 787s, one 767 Freighter and 18 737NG-based P-8 Poseidon maritime surveillance aircraft. The 12 787s were conversion of tentative commitments by Japanese carrier All Nippon Airways.
"Overall, we continue to have a large and diverse order backlog of more than 5,000 jets across our airplane family," Boeing says.
That backlog now stands at 5,049 jets, down from 5,351 at the end of February, and from 5,406 at the end of 2019, its figures show.
Boeing delivered 20 commercial aircraft in March: 11 787s, three 777s, five 767s, plus one unit for the P-8 programme.
"We continue to work with our customers on the timing of their deliveries due to logistical challenges of visiting the US amid the coronavirus outbreak," it says.
Story corrected on 15 April to note Boeing delivered 20 commercial aircraft in March, not 19.