Boeing has delayed first delivery of its 777-9 by up to two years, until 2025, dealing another blow to the long-delayed programme.
The company has also temporarily halted production of the new widebody, saying its revised delivery schedule reflects the pace of certification work.
"Delivery of the first 777-9 airplane is now expected in 2025, which reflects an updated assessment of the time required to meet certification requirements," Boeing said on 27 April.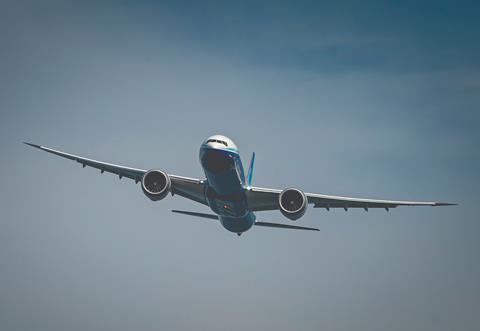 The company previously had said that it expected to deliver the first 777-9 by the end of 2023.
"To minimise inventory and the number of airplanes requiring change incorporation, the 777-9 production rate ramp is being adjusted, including a temporary pause through 2023," Boeing says.
Boeing disclosed the fresh delay as it reported its first-quarter financial results. It lost $1.2 billion in the first quarter, roughly doubling its $561 million loss in the same period of 2021. Boeing's first-quarter revenue slipped 8% year-on-year to $13.6 billion.
Boeing Commercial Airplanes posted an $859 million first-quarter operating loss, slightly worse than its $856 million loss in the same period last year.
The airframer has not immediately provided additional details about why it further delayed the 777-9 programme, but the company has been working with the US Federal Aviation Administration (FAA) to address certification issues, including those that led Boeing to make some design changes.
Observers says the FAA is taking a methodical approach to certification following criticism of its 737 Max certification. The FAA has also been overseeing 787 quality problems that forced Boeing to halt deliveries of that aircraft.
The airframer says it will bump up production of its first-generation 777 Freighter starting in 2023 – a move enabled by the changes to its planned 777-9 production rate ramp.
Boeing has not said how the revised 777-9 timeline will impact the certification and delivery timing of its other two 777X variants: the 777-8F and the 777-8. Both those are to come after the 777-9.
The 777-9 programme changes will cost Boeing $1.5 billion in charges, which it will start taking in the second quarter and which will continue until when 777-9 production resumes, the company says.
News of the delay is sure to spark further critique from 777-9 customers. Chief among customers critical of the programme has been Emirates president Tim Clark, who has expressed frustration at the programme's progress and warned Boeing to address quality issues before delivering the new widebodies.