A fresh commitment from Southwest Airlines helped push Boeing's backlog up by 91 net orders in November, marking the 10th straight month during which the company logged positive commercial activity.
During November, Boeing landed orders for 109 aircraft, all of them 737 Max jets, and logged 18 cancellations – also all for the Max – the airframer revealed on 14 December.
Included in the 109-Max total are 72 aircraft for Indian carrier Akasa Air, 30 for lessor 777 Partners, and seven for Southwest Airlines.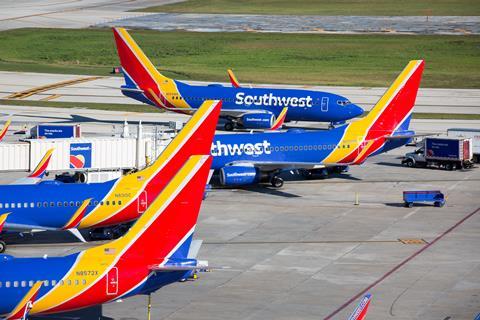 Those responsible for the 18 737 Max cancellations include lessors CDB Aviation (four) and GECAS (one), Thailand's Nok Air (six), Kazakhstan's SCAT Airlines (one), United Airlines (two) and unidentified customers (four).
Boeing also in November shifted orders into and out of a special accounting bucket – ASC-606 – which houses commitments the manufacturer suspects will not close due to factors including the financial condition of customers.
Boeing moved orders for 18 737 Max out of its backlog and into ASC-606, but transferred another 11 from ASC-606 to the backlog. Those changes resulted in the backlog reducing by seven jets, it says.
The airframer delivered 34 jets in November – up from 27 the previous month – including one 737NG-based P-8 military surveillance jet for the Royal Norwegian Air Force and 28 737 Max.
Max recipients comprise 777 Partners (one), Air Canada (three), Air Lease (one), Dubai Aerospace Enterprise (three), Flydubai (three), Ryanair (10), Singapore Airlines (one), SMBC Aviation Capital (three), UK carrier TUI (one), Turkish Airlines (one) and United Airlines (one).
Boeing's November deliveries also included five widebody jets, among them one 747-8 VIP aircraft to Egypt's defence ministry, two 767-based KC-46 refuelling tankers to the US Air Force, one 767F each to FedEx and UPS. But November was another month where there were no shipments of 787s due to ongoing quality issues with the twinjet.
Boeing ended November with a backlog of 4,210 aircraft, up from 4,160 at the end of October. The backlog includes 3,391 737s, seven 747s, 91 767s, 310 777s and 411 787s.