Boeing landed orders for another 37 commercial jets in February, including deals for 32 737 Max and for five first-generation 777 Freighters.
Still, the airframer continued struggling to ramp up deliveries, handing over only 22 jets to customers in February, down month-on-month.
Of the 32 737 Max orders, Air Lease signed for 18 and unidentified customers signed for 14. Among those unidentified orders were deals for two 737 Max-based Boeing Business Jets, the company says.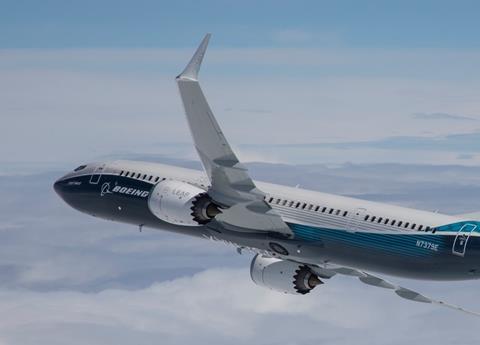 Boeing does not disclose which customer or customers ordered the five 777Fs. It says February marks its 13th consecutive month of positive order activity.
Atop the orders, Boeing bolstered its backlog in February by another 49 jets – a result of changes it made to an accounting bucket called "ASC-606". That bucket houses orders for which Boeing has firm contracts but that it suspects might not close due to conditions including the financial position of the buyers.
In February, Boeing moved three 737 Max orders out of its backlog and into ASC-606. But it also transferred orders for another 52 jets (48 737s and four 787s) out of ASC-606, returning those to the backlog.
On the negative side of the ledger, Boeing lost five orders in February to cancellations. Air Lease cancelled orders for four 787-9s and another lessor, Aviation Capital Group, nixed orders for one 737 Max, Boeing says.
Boeing's deliveries slowed in February. The company ended the month having handed over 22 jets, down from 32 in January. The February deliveries included one 747-8 to UPS, one 777F to DHL and 20 737 Max, Boeing says.
Cumulatively, the changes left Boeing with 4,375 jets in its backlog at the end of last month – 59 more than at the end of January, when the backlog stood at 4,316 aircraft.
The 4,375 orders include 3,497 737s, five 747-8s, 106 767s, 357 777s and 410 787s.
Year to date through February, Boeing has taken orders for 114 aircraft but lost seven orders to cancellations.
Boeing notes it has delivered 319 of its 737 Max since December 2020, when it resumed deliveries following the type's 20-month grounding.