Boeing continued padding its order backlog in August, a month during which the company again logged more new orders than cancellations.
Though Boeing's customers continued nixing deals for new jets – a trend ongoing for more than a year – the August figures show Boeing has been able to more than offset cancellations with new sales contracts.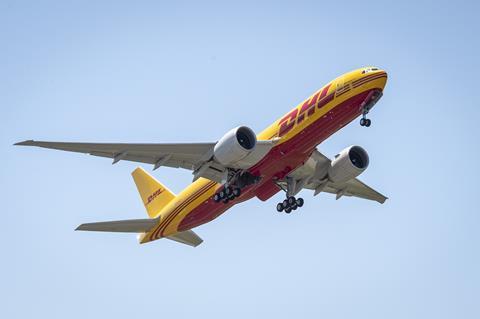 In August, Boeing logged 30 order cancellations and 53 new orders, resulting in positive order growth by 23 aircraft – the seventh straight month during which Boeing's order activity has been in the black, the company says on 14 September.
August also marked another month during which Boeing delivered no 787s.
Boeing's 53 August aircraft orders included 35 737 Max and 18 widebody jets. The Max deals included eight jets ordered by US finance company 777 Partners, 12 ordered by Alaska Airlines, five by lessor Griffin Global Asset Management, eight by United Airlines and two by unidentified customers, Boeing says.
Boeing's 18 widebody orders in August included one 777 Freighter ordered by FedEx, 10 777Fs ordered by unidentified customers and seven 787-9s with unidentified buyers.
The 30 cancellations offset those orders.
United, though it ordered eight 737 Max in August, also cancelled eight (Several Boeing customers have in recent months made similar order swaps, doing so as a means of adjusting contract terms, such as delivery schedules). Additionally, unidentified customers nixed another 20 737 Max and Avolon cancelled two 787-9s in August.
The Chicago airframer delivered 22 aircraft in August, down from 28 deliveries in July. The August deliveries included 14 737 Max: two to lessor Air Lease, one Boeing Business Jet received to an unnamed customer, two jets taken by lessor Jackson Square Aviation, one to Ryanair, one to Turkish Airlines and seven to United, Boeing says.
Also last month, Boeing delivered two 737NG-based P-8A Poseidon maritime patrol jets – one to the US Navy and one to the Norwegian air force. It delivered six widebodies last month: one 767F to FedEx, three 767-based KC-46 tankers to the US Air Force, one 777F to FedEx and one 777F to DHL.
Boeing also bolstered its firm backlog by 22 jets in August by tweaking its "ASC-606" accounting bucket. That bucket holds contracted orders that Boeing suspects will not close due to factors including customers' financial condition.
Boeing moved 16 737 Max into the accounting bucket in August – but it also pulled a separate 38 jets (36 737s and two 787s) out, placing those back into its firm backlog.
The changes left Boeing's backlog at the end of August at 4,164 aircraft, up from 4,141 one month earlier. The backlog includes 3,325 737s, 10 747s, 100 767s, 301 777s and 428 787s.
Boeing has not delivered any 787s since May, when it halted deliveries due to quality problems involving the jets' fuselages.
Year to date, Boeing has landed orders for 683 jets and received 403 cancellations, leaving its year-to-date net order activity at positive 280.