The ongoing grounding of the Boeing 737 Max has the potential to decimate the supply chain, and the aircraft's return to revenue service may take significantly longer than anticipated due to maintenance and airline crew training requirements, creating a delicate balancing act for the manufacturer as the crisis enters its 12th month.
The 737 Max was grounded in March 2019 following two accidents which killed 346 people. Now, with about 800 aircraft awaiting their return to service or delivery to airlines, the Chicago-based planemaker has stopped production, throwing many of its suppliers into a jam. Boeing has to decide how to restart that assembly process while keeping the interests of both suppliers and customers in mind.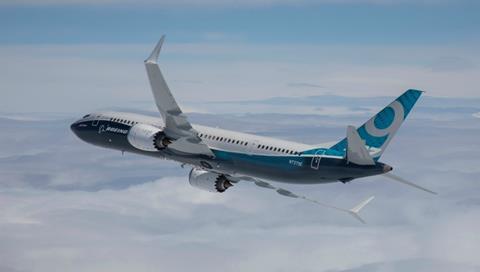 "It's a balancing act. Boeing needs to preserve the viability of the supply chain," Kevin Michaels, managing director AeroDynamic Advisory tells participants at the Pacific Northwest Aerospace Association in Lynnwood, Washington on 4 February. On the other hand, "it wouldn't make sense to start producing lots of Maxes if the customers are not in a position to deploy them."
Boeing produced about 400 aircraft in 2019 that remain undelivered. In addition, about 387 aircraft are currently in storage, and 100 more fuselages have been built. "This inventory has to clear as we think about how fast the Max will be reintroduced into service."
But once the aircraft is recertificated by the FAA it will take weeks to months for them to return to revenue service with their carriers. Maintenance and crew training requirements will likely add at least two to five months to the timeline. In January, Boeing said it would recommend simulator training for all pilots – a 180-degree reversal from its earlier stance – and airlines are now scrambling to find the capacity to carry out this training.
"There are only 36 Max full-flight simulators in the world in service today, and the lead times for new simulators are about a year," Michaels says, adding that it is possible to train just ten pilots per day on each simulator.
"Once we get the green light from the FAA what happens then? The new software then needs to be installed into the simulators, the simulators need to be certified by the FAA, airlines need to revise their training programs, that needs to be approved by the FAA, and then the airlines need to train a critical mass of pilots where they can actually deploy the Max aircraft," he says. For optimal revenue operation, the airline needs five crews trained for every aircraft in service.
On the supplier side, many of the smaller tier-two and tier-three suppliers have the most to lose as the struggle with the production halt. They require more working capital to keep their businesses afloat due to long cash-to-cash cycles - the time between when a supplier company has to pay for its raw materials to the time it receives payment for delivered parts – which can be up to between 110 and 140 days.
Prior to the grounding, Boeing produced 52 737s monthly and anticipated hiking production to 57 aircraft monthly in 2019, followed by possible further rate hikes. After the grounding took effect, Boeing continued Max production, albeit at a reduced rate of 42 aircraft monthly, until January.
"Working capital is a big deal for suppliers, and all this is happening at a time when they were just asked to do a rate readiness review to make 57 Maxes a year," Michaels says. "So on top of the working capital stress, they had to prove they could make 57 a year, and then production pauses, and there you are, you're hanging out there to dry a bit." This financial pressure, he adds, could lead to further consolidation among the 800 firms that supply the planemaker with parts and equipment.
Last week, Boeing chief executive David Calhoun said the company intends to restart 737 Max production several months before midyear and ahead of the Max's return to service, meaning production could start humming again within three months. The question remains as to whether every single supplier will be ready when that date comes.
"The Max is only as good as the weakest part of the supply chain, and it's the ecosystem we are going to have to look after," Michaels says.
Should Boeing decide to restart production of the Max shortly, the company could begin to deliver aircraft again in the late third or early fourth quarter. The company would probably be able to reach that 52-per-month rate by late 2022, Michaels says.
The FAA has not yet said when it expects the aircraft to return to service, though regulators have indicated that it could be the middle of the year.