US manufacturing giant Boeing lost a staggering $11.9 billion in 2020, due partly to a $6.5 billion charge on its 777X programme but also the 737 Max grounding and the Covid-19 pandemic's evaporating effect on travel demand.
In disclosing its full-year results on 27 January, the Chicago-based airframer says it has delayed its 777X programme by another year, with first delivery of its 777-9 now scheduled for late 2023.
The 2020 loss highlights a storm of separate and related pressures facing Boeing, chief among them the pandemic, which hit just as the company was working to bring its 777-9 to market and get hundreds of grounded 737 Max aircraft back into service.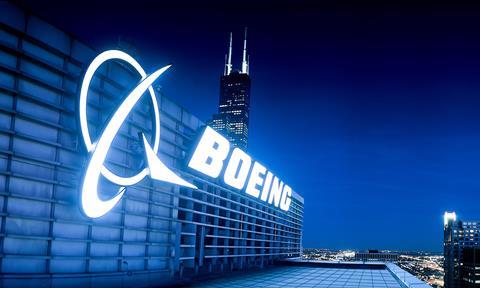 Other factors included reduced aerospace services revenue and "787 production issues", Boeing says.
By comparison, Boeing lost $636 million in 2019 and earned $10.5 billion in 2018.
The company reports $58.2 billion in 2020 revenue, down 24% in one year and 43% in two.
Boeing's commercial aircraft division lost $13.9 billion last year, but its other two units turned profits: $1.5 billion for Defense, Space & Security and $450 million for Global Services.
Boeing chief executive David Calhoun calls 2020 "a year of profound societal and global disruption which significantly constrained our industry".
"The deep impact of the pandemic on commercial air travel, coupled with the 737 Max grounding, challenged our results," he says. "We remain confident in our future, squarely-focused on safety, quality and transparency as we rebuild trust and transform our business."
Calhoun adds that Boeing's "balanced portfolio of diverse defence, space and services programmes continues to provide important stability as we lay the foundation for our recovery".
The full-year $11.9 billion loss is more than triple the $3.5 billion loss Boeing accumulated in the first three quarters of 2020.
But in the fourth quarter Boeing recorded $8.3 billion in new charges. Those included $6.5 billion on the 777X, $465 million pegged to 737 Max "abnormal production", $275 million in "production inefficiencies" on the KC-46A tanker, $290 million attributed to Boeing Global Services and $744 million from a 737 Max settlement with the US government.
Boeing's fourth quarter loss was $8.4 billion. By segment, the commercial aircraft division lost $7.7 billion in the three-month period, Defense, Space & Security earned $502 million and Global Services earned $143 million.
777X DELAY, 787 PRODUCTION SHIFT
Boeing now expects to deliver its first 777-9 in 2023, not 2022. That delay reflects changing market demand and an "updated assessment of global certification requirements" – possibly a reference to increased scrutiny following troubling issues with the 737 Max's approval.
Boeing also confirms that it will stop producing 787s at its Everett, Washington facility after March 2021, when it will shift all the work to its other 787 site in North Charleston, South Carolina.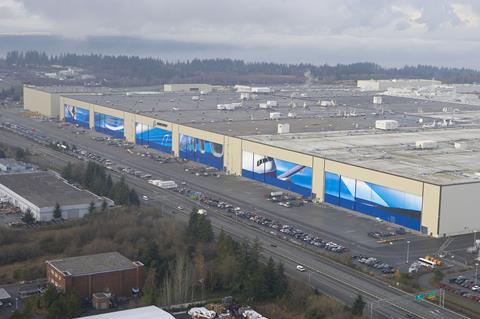 The company had previously disclosed its intention to shutter the Everett 787 line in 2021, but had not confirmed when.
Boeing has not altered production output plans, which it revised downward last year. The company intends to increase 737 Max production to 31 jets monthly in early 2022 and to produce two 777s and five 787s monthly this year.
Those rates are down from previous highs of 53 737s, five 777s and 14 787s monthly.
Boeing has delivered 40 737 Max since the US Federal Aviation Administration lifted the type's grounding in November 2020. Five airlines have returned the type to revenue service, Boeing says.
The company continues progressing with a business transformation that includes changes to its manufacturing footprint, real estate holdings, corporate structure and supply chain, it says. Those efforts will help Boeing save cash, improve productivity and "adapt to the new market".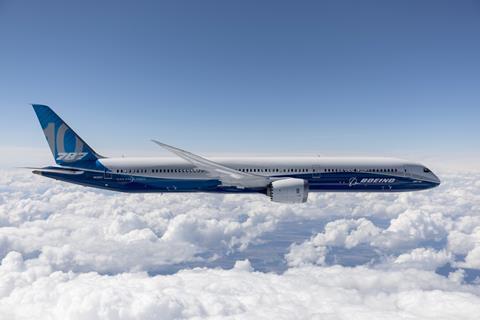 In 2020, Boeing disclosed it intends to reduce its workforce to about 130,000 staff by the end of 2021 – a reduction of 20%, or about 30,000 jobs, from the end of 2019.
Boeing's aircraft deliveries have been hamstrung in the last year by both the pandemic and 787 production quality issues, which have necessitated detailed inspections.
The airframer handed over 157 jets in 2020, down from 380 in 2019.
As deliveries slowed, Boeing's inventory of undelivered jets, particularly of 787s, swelled.
Boeing now holds 478 undelivered jets, according to Cirium fleets data. Those include seven 767s, seven 777s, 73 787s and 391 737 Max – though the Max are holdovers from that type's grounding.