Boeing has resumed 737 Max production, bringing the factory back on line at "low" production rates almost five months after halting Max assemblies.
"The 737 programme began building airplanes at a low rate as it implements more than a dozen initiatives focused on enhancing workplace safety and product quality," the company says on 27 May.
Boeing does not disclose an initial production rate. The company says production will resume at a "very gradual pace" and that production ramp up "will be determined by the pace of deliveries to our customers".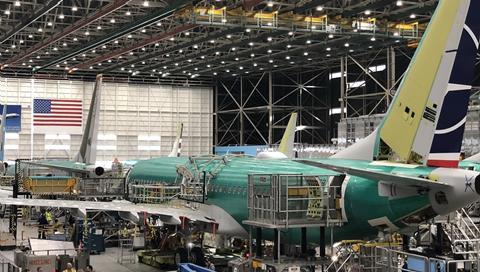 Boeing said in recent weeks that it intends to produce 31 737 Max monthly in 2021. The company produces 737s in Renton, Washington.
Regulators grounded the Max in March 2019, forcing Boeing to halt deliveries. But the company kept producing roughly 42 737 Max monthly for the remainder of 2019, causing a massive backup of undelivered aircraft.
With signs suggesting no immediate end to the grounding, Boeing halted Max production in January.
Since then, Boeing mechanics and engineers "collaborated to refine and standardise work packages in each position of the factory", Boeing says. "New kitting processes will also ensure that employees have everything they need at their fingertips to build the airplane."
"These initiatives are the next step in creating the optimal build environment for the 737 Max," says 737 programme vice-president and general manager Walt Odisho.