Boeing's most recent Dreamliner delivery pause came to an end on 15 March when the airframer handed over a 787-9 to German carrier Lufthansa.
With the several-week pause now over, the company faces the challenge of accelerating the pace of 787 shipments as it works to clear its backlog of stored jets and to meet its 2023 delivery target.
Boeing on 16 March confirmed it had "resumed 787 deliveries" with the handover to Lufthansa. That aircraft, with registration D-ABPE, took off from Everett at about 15:50 local time yesterday and landed today in Frankfurt, according to flight-tracking websites.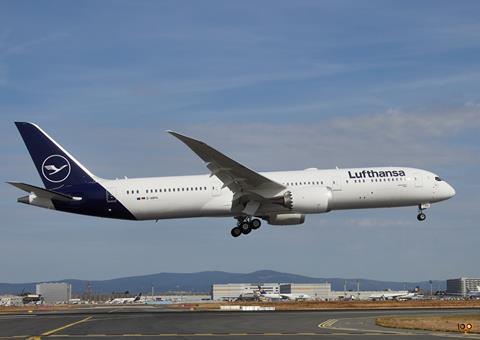 Boeing's 787 programme had suffered high-profile setbacks recently, including a roughly 22-month delivery pause that ended last August after Boeing addressed manufacturing quality issues involving composite fuselage sections and pressure bulkheads.
The programme had been recovering, with Boeing ramping shipments to 10 aircraft in December last year. Then, however, deliveries fell off to just three aircraft in January.
On 23 February, Boeing confirmed it had halted deliveries again, this time owing to what it called an "analysis error by our supplier related to the 787 forward-pressure bulkhead".
That supplier, Wichita's Spirit AeroSystems, pushed back in February, saying it had not yet determined that its analysis was at fault.
Several days ago, the US Federal Aviation Administration said it was satisfied Boeing had "addressed" concerns related to the latest pause.
It is unclear exactly how long the halt lasted. But Boeing – with one exception – delivered no 787s in the roughly seven weeks between 26 January and 15 March. The exception was the February delivery of a single 787 that Boeing said was not subject to the pause because it had been certificated before it took effect.
With deliveries now resumed, Boeing faces the task of accelerating the pace at which it gets 787s into customers' hands.
The company has said it expects in 2023 to deliver 70-80 of the jets – or roughly six or seven monthly. But so far this year, Boeing has seemingly shipped only five 787s: one to KLM, two to Lufthansa, one to Qatar Airways and one to United Airlines, according to data from Boeing and Cirium.
Boeing's pace will also determine how fast it rids itself of a stockpile of undelivered 787s – jets it produced but did not deliver during the previous 22-month halt. Boeing ended 2022 with 100 of the type in its inventory, chief financial officer Brian West said in January.
But Boeing's 787 delivery pace rests partly outside its control. That is because the FAA still holds responsibility for issuing the aircraft-specific airworthiness certificates that clear each 787 to fly, notes Ascend by Cirium senior aviation consultant Max Kingsley-Jones. The FAA took that authority from Boeing in 2022, amid the 787 quality problems.
Troubles aside, demand for 787s has rebounded sharply in recent months, with Boeing landing new orders and commitments for hundreds of the jets.
"Most, if not all, customers want their [787] deliveries now because the market recovery is strong," Kingsley-Jones says. He adds that long-haul travel to and from the Asia-Pacific region has been rebounding swiftly since China lifted Covid-19-related travel restrictions.
"There appears to be a lack of capacity in the near-to-medium term," Kingsley-Jones says.
That recovery has already manifested in deals for Boeing.
In December last year, United Airlines alone ordered 90 787s. In February, news broke that Air India plans to order 20 787s, and in March two Saudi Arabian carriers said they intend to order the type. Specifically, start-up Riyadh Air plans to order up to 72 787s, and Saudia intends to order up to 49.