Boeing is back in the black after the US airframer turned a $567 million profit in the second quarter of 2021, marking the company's first quarterly profit since the second half of 2019. However, the airframer's commercial aircraft business remained loss-making.
The return to profitability came in a period during which Boeing saw a significant uptick in deliveries of new aircraft, as its 737 Max programme continued its recovery and travel demand rebounded from pandemic lows.
Though Boeing's commercial aircraft division lost money in the three months ended 30 June, the company's Global Services unit, and its Defense, Space and Security business, turned sufficient profits to keep the company in positive financial territory.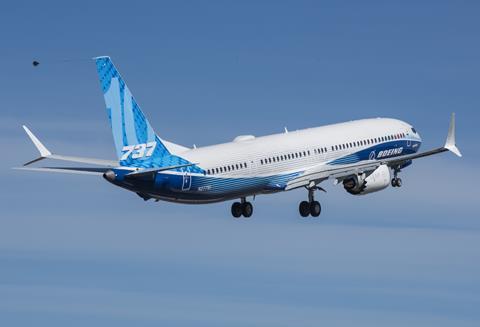 "We continued to make important progress in the second quarter as we focus on driving stability across our operations and transforming our business for the future," says Boeing chief executive David Calhoun.
Executives are scheduled to share more details during an earnings call today.
Boeing generated $17 billion in revenue during the second quarter, up 44% from $11.8 billion in the same period of 2020. Expenses came in at $14.6 billion, up 12% year on year.
The company's commercial aircraft division lost $472 million – improving on a loss of $2.8 billion a year earlier – on revenue of $6 billion, up from $1.6 billion in the same period of 2020, driven higher by increased deliveries.
Boeing handed over 79 aircraft in the second quarter, compared to 20 deliveries in the same three months last year.
The company is "continuing to make progress on the global safe return to service of the 737 Max", Boeing says. In November 2020, the US Federal Aviation Administration (FAA) lifted the Max's grounding, which had been in place for 20 months.
Since then, Boeing has delivered "more than" 130 737 Max, and airlines have returned another 190 previously grounded jets to service; 30 airlines globally are now operating the type.
The company is producing Max aircraft at a rate of 16 per month and is working to boost production to 31 monthly in early 2022, "with further gradual increases to correspond with market demand", it says.
Despite the Max's progress, Boeing has been beset by manufacturing issues affecting its 787. The company paused deliveries of that jet in May – for the second time since late 2020 – to address an issue involving gaps at fuselage joins on undelivered jets. Boeing said the gaps failed to meet what it described as exacting specifications.
In recent weeks, the airframer disclosed a separate issue involving gaps in the forward pressure bulkhead of undelivered 787s. In response, Boeing is temporarily reducing 787 production to below the previous rate of five jets monthly, although it has not specified the exact output level.
Boeing says the issues do not affect 787 flight safety. Deliveries have been paused as the FAA works to approve Boeing's proposed solution to the issues.
The airframer has some 100 undelivered 787s in its inventory and expects to deliver about half of those this year, it says.
Boeing Global Services, the airframer's aircraft services and support unit, earned a $531 million second-quarter operating profit, reversing a $672 million loss in the same period of 2020. Revenue jumped 17% year on year to $4.1 billion.
The company's Defense, Space and Security business earned a $958 million second-quarter operating profit, up 60% from a $600 million profit in the same period of last year. The division's revenue inched up 4% year on year to $6.9 billion.