Boeing made progress ramping up aircraft deliveries in June, when it handed over 51 aircraft – the most shipments it has made in any month since March 2019.
The company, which reported its June order and delivery tally on 12 July, also says it has now achieved its goal of ramping 737 production to a 31-per-month rate.
"We are at rate 31 for the 737 programme," the airframer says.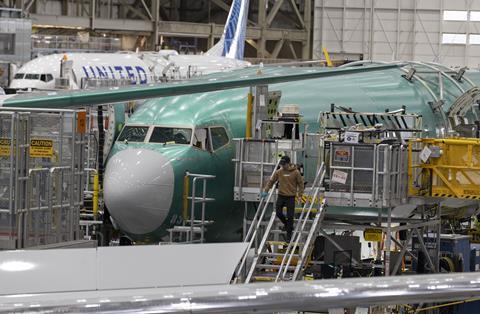 Boeing does not specify actual production figures for the month, and its 737 Max deliveries continue to include aircraft that were previously produced and stored in inventory. The company says its staffing levels and suppliers are working at the 31-per-month rate.
"We are continuing to make progress stabilising our production rates at 31 per month," the airframer adds. Boeing says it expects "some variability" in production rates and that "actual roll outs are variable month to month".
Cirium fleets data shows that 21 737s made first flight in June. First flights are rough proxies for aircraft production rates, though the figures can differ, Cirium analysts say.
Hitting rate 31 suggests Boeing is overcoming supply and labour challenges that have hobbled its ability to bring up 737 production. The company had aimed to hit the 31-monthly rate in early 2022.
Boeing also landed orders for 50 new jets during June. But the month was not all positive, as customers cancelled orders for 35 aircraft last month – more than in any month since June 2021.
Boeing closed June with 4,239 undelivered aircraft in its backlog, up from 4,192 at the end of May.
The 51 aircraft Boeing delivered in June included 43 737 Max that went to a range of airlines and aircraft lessors. Boeing also delivered one 737NG-based P-8 Poseidon military surveillance jet to the US Navy. Boeing does not specify how many of the 43 737 deliveries last month were newly produced aircraft, and how many were jets from its inventory. However, Cirium fleets data shows that 19 of those aircraft made first flights prior to 2022.
Boeing also delivered seven widebody jets in June. Those included one 767-based KC-46 aerial refuelling tanker to the US Air Force, two 767 Freighters to Air Canada, one 767F to FedEx, two 777Fs to French logistics firm CMA CGM and one 777F to Emirates Airline.
Boeing delivered no 747s or 787s in June. The company's 787 deliveries have been paused for most of the last 21 months due to manufacturing quality problems, and Boeing is wrapping up 747 production, with only three 747-8Fs yet undelivered.
The 35 order cancellations Boeing logged in June involved deals from major Boeing customers and comprised orders for six 787-9s and 29 737 Max jets.
Those 787-9 cancellations included Colombian airline Avianca (two), WestJet (three) and discounter Norwegian Air Shuttle (one). The same carrier also scrubbed 28 737 Max from its orderbook, while Aerolineas Argentinas was responsible for the other Max cancellation.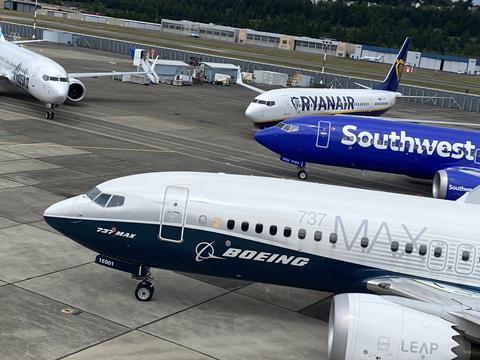 Boeing partially offset those cancellations through accounting adjustments that boosted its backlog by 83 orders. The adjustments involved moving orders in and out of an accounting bucket called "ASC-606", which houses deals the airframer suspects will not complete due to factors including the financial condition of customers.
In June, Boeing shifted orders for seven jets from its backlog into the ASC-606 category, but moved orders for 90 aircraft from ASC-606 back into its backlog – resulting in the net backlog gain of 83 orders.
Boeing's end-June backlog of 4,239 aircraft includes 3,431 737s, three 747s, 96 767s, 302 777s and 407 787s.
In the year to date, Boeing has taken orders for 286 aircraft and logged 100 cancellations.