Polish charter carrier Enter Air has ordered two additional Boeing 737 Max 8s and taken options to buy another two of the jets, marking a rare sales win for Boeing's and its still-grounded Max.
As part of the deal, Boeing has provided Enter Air with compensation related to financial impact of the Max's grounding.
That compensation includes renegotiated delivery dates for four other 737 Max 8s previously ordered by Warsaw-based Enter Air.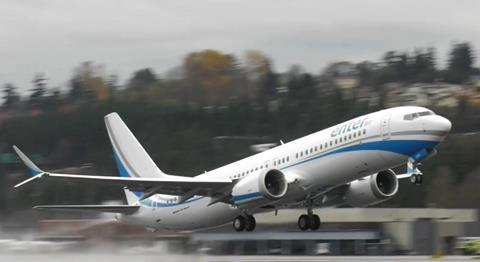 All-737 carrier Enter Air's fleet currently includes two 737 Max – which are in storage – and 22 737NGs, according to Boeing and Cirium fleets data.
The latest order and options, if exercised, would bring Enter Air's Max fleet to 10 jets.
"Despite the current crisis, it is important to think about the future," says Enter Air general director Grzegorz Polaniecki. "Following the rigorous checks that the 737 Max is undergoing, I am convinced it will be the best aircraft in the world for many years to come."
Boeing and Enter Air have "finalised a settlement to address the commercial impacts stemming from the grounding of the 737 Max fleet"," the Chicago-based airframer says.
The "compensation will be provided in a number of forms and staggered over a period of time", it adds.
"In the settlement with Boeing, we agreed to revise the delivery schedule for the previously-ordered airplanes in response to current market conditions," adds Polaniecki. "The specific terms of the settlement are strictly confidential, but we are pleased with the way Boeing has treated us as its customer."
Boeing senior vice-president of commercial sales and marketing Ihssane Mounir says Boeing is "humbled by Enter Air's commitment" to the Max. He adds that the order "underscores their confidence in the airplane" and in Boeing.
Regulators grounded the Max in March 2019. Boeing has it expects regulators will lift the Max's grounding in time to permit deliveries of the jet to resume in the fourth quarter.
Between January and July, Boeing's 737 backlog declined by 855 jets, or 19%, slipping from 4,398 to 3,543 aircraft at the end of July, company data shows.
The decline accounts for 416 order cancellations and the removal of 448 Max orders to comply with accounting guidelines. Boeing still held contracts to sell those 448 jets, but had less confidence the deals would close.
Also this year Boeing has delivered nine 737NGs and taken orders for 18 military variants of the 737NG, its data shows.