Boeing lost $466 million in the third quarter of 2020, bringing the company's losses in the first nine months of 2020 to $3.5 billion.
Still, the third-quarter figure marks an improvement over the previous three-month periods this year – Boeing lost $2.4 billion in the second quarter and $641 million in the first.
"The global pandemic continued to add pressure to our business this quarter, and we're aligning to this new reality by closely managing our liquidity and transforming our enterprise to be sharper, more resilient and more sustainable for the long term," says Boeing chief executive Dave Calhoun.
"Despite the near-term headwinds, we remain confident in our long-term future and are focused on sustaining critical investments in our business."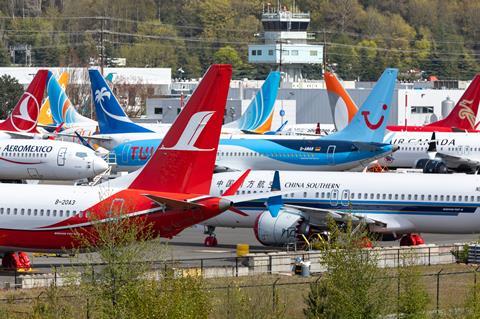 Boeing Commercial Airplanes posted an operating loss of $1.4 billion in the third quarter. By comparison, the division lost $40 million in the third quarter of 2019.
The commercial business generated $3.6 billion in revenue during the quarter, down 56% year on year. Boeing attributes the decline to fewer deliveries and "787 quality issues and associated rework".
The company disclosed earlier this year it had identified structural issues affecting some 787s. Boeing delivered 28 jets in the third quarter, down from 62 deliveries in the same period of 2019.
Boeing Global Services earned a $271 million operating profit in the third quarter, down 60% year on year. The company's Defense, Space & Security business posted a $628 million operating profit, down 17%.
Boeing ended the third quarter with cash and cash equivalents valued at $10.6 billion, up from $9.5 billion at the end of 2019.