Boeing legal counselor and senior adviser Michael Luttig, who has overseen the company's 737 Max legal matters, will retire from Boeing at year-end, Boeing says.
The announcement on 26 December comes just days after Boeing disclosed that former chief executive Dennis Muilenburg had stepped down, replaced by incoming CEO David Calhoun, who will take over on 13 January.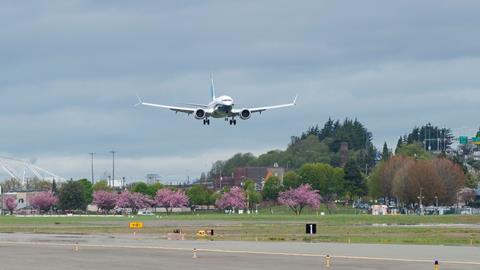 The departure of Luttig, who some have credited with formulating Boeing's public response to the Max crisis, marks another top executive gone in the wake of two 737 Max crashes.
Former Boeing commercial airplanes chief Kevin McAllister resigned in October, succeeded by Stan Deal.
In a media release, Boeing says Luttig "has informed the board of his long-considered retirement at year end".
Boeing declines to elaborate on Luttig's "retirement", news of which comes four days before the end of 2019. The company declines to make Luttig available for questions.
"Judge Luttig is one of the finest legal minds in the nation and he has expertly and tirelessly guided our company as general counsel, counselor and senior adviser," says Boeing interim CEO Greg Smith in the release. Smith will hold that position until Calhoun takes over.
"We are deeply indebted to judge Luttig for his extraordinary service to Boeing over these nearly 14 years, especially through this past challenging year for our company," adds Smith. "The board and I will always be grateful for the judge's remarkable service to The Boeing Company."
Luttig says in the release that he "will be eternally grateful" to Boeing, its board and his colleagues.
Luttig had been Boeing's general counsel until mid-2019, when he took the newly created position of counselor and senior adviser, a role under which he advised Muilenburg on legal matters related to the Max.
In the months that followed, Muilenburg took heavy criticism from those who said he failed to adequately take responsibility for the company's role in two crashes. Some observers have said Luttig was behind those alleged missteps.
Luttig had been Boeing's general counsel since 2006.
Earlier, he was a US Court of Appeals judge and assistant attorney general at the US Department of Justice, according to Boeing. He was also clerk to former US chief justice Warren Burger and assistant counsel in the White House office of counsel in the early 1980s.