A joint study by Boeing and the University of Arizona found that disinfectants already used on aircraft are successful in killing viruses like the one that causes Covid-19.
Boeing says the results demonstrate that passengers face little risk of catching the virus from recently-disinfected aircraft surfaces.
The study comes as the airline industry continues stressing to the public that they are safe from the virus when flying. The sector has said several other recent studies support that conclusion.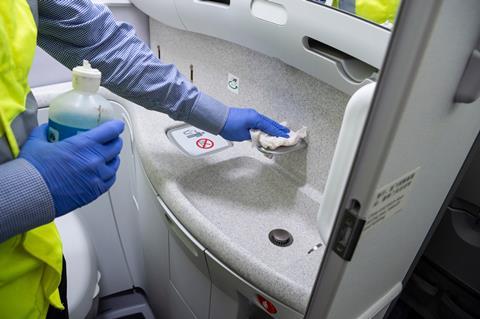 Boeing's study, the first of its kind, aimed to determine how well various disinfectant methods, many already in use, kill a virus called MS2 on aircraft cabin surfaces, the Chicago airframer says.
MS2 is harmless to humans, and more-difficult to kill than SARS-CoV-2, the virus that causes Covid-19, says Boeing.
The tests involved placing MS2 on "touch points" within an aircraft cabin, including on tray tables, armrests, seat cushions and storage bins, and in lavatories and galleys.
Study participants then disinfected the surfaces using various products and methods. Surfaces were wiped and sprayed with virus-killing chemicals and treated with "antimicrobial coats" and ultraviolet light.
The study confirmed that the disinfectants killed the virus, Boeing says.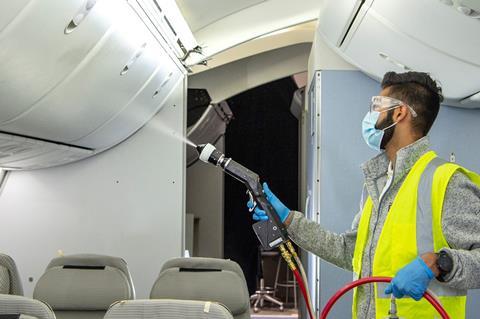 The University of Arizona "validated" the testing and "correlated those results in a lab to the virus that causes Covid-19," it adds.
"The probability of getting infected is close to zero. Using these techniques, there will be no transmission of the virus on these surfaces," says University of Arizona virology professor Charles Gerba, who participated in the study.
"Current cleaning solutions effectively destroy the virus that causes Covid-19," Boeing adds.
Michael Delaney, who heads Boeing's "Confident Travel Initiative", says the study confirms that cleaning recommendations Boeing provides its customers work.
Last week, the US military released results from a study into the possible airborne spread of the Covid-19 virus within aircraft cabins. That study concluded that the "overall exposure risk from aerosolised pathogens, like coronavirus, is very low".
On 8 October, IATA said the risk of catching Covid-19 on an aircraft "appears very low". IATA said "computational fluid dynamics" research completed by Airbus, Boeing and Embraer demonstrated that "aircraft airflow systems do control the movement of particles in the cabin, limiting the spread of viruses".
Boeing's study was an effort by its Confident Travel Initiative, which the company created earlier this year to establish safety recommendations and to study the risk of Covid transmission on aircraft.