Boeing has instructed suppliers to stop shipments to its Seattle-area production sites during the company's temporary production shutdown, which takes effect on 25 March.
"Since almost all of our Puget Sound-area employees will not be at our facilities for the next two weeks, we have instructed suppliers to halt shipments to the site during that time," Boeing says in a statement. "This is part of the process we have in place for managing supply chain business continuity."
Shipments of supplies to Boeing's production site in South Carolina, where the company assembles 787s, will continue, the company adds.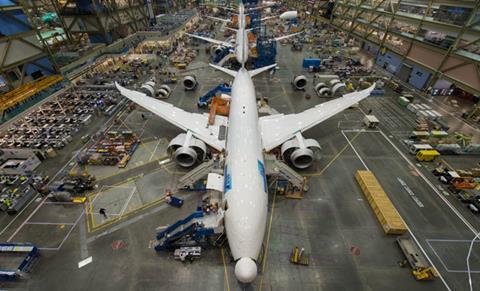 Boeing on 23 March said it was closing its Seattle-area facilities for two weeks, a move coming after a Boeing employee reportedly died from the coronavirus.
The halt has already shuddered through the supply chain, with Spirit AeroSystems stopping much of its Boeing-related production and supply Triumph Group announcing 250 layoffs.
"We are coordinating with our suppliers on the safest and most-efficient way to manage the flow of parts during and after the pause in production," Boeing says. "We will continue to work closely with our suppliers to understand their unique circumstances and work together to navigate these unprecedented circumstances."