Ethiopian Airlines has enlisted Boeing's help in advancing Ethiopia's aviation industry, with the companies agreeing to collaborate on projects related to pilot training, manufacturing and leadership development.
The Addis Ababa-based carrier, a longtime Boeing customer, disclosed a new "strategic memorandum of understanding" with Boeing on 30 August, saying the deal will position Ethiopia "as Africa's aviation hub".
Ethiopian has provided scant details abut the partnership and did not respond to a request for more information.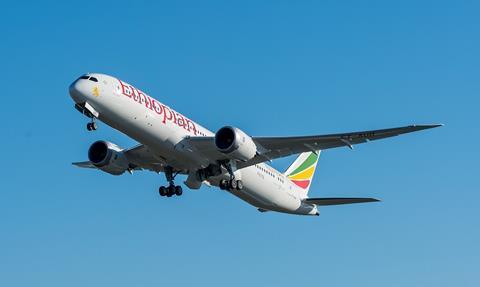 "Ethiopian and Boeing have agreed to work in partnership in four areas of strategic collaboration," the airline says. Those include "industrial development, advanced aviation training, educational partnership and leadership development, in a span of three years".
Boeing did not comment.
Ethiopian says the partnership will focus significantly on building "a 21st century pipeline for aviation careers in Ethiopia".
The companies "will collaborate with highly qualified educational institutions and aviation industry partners to create specialized learning and development programmes to meet workforce demands", says the airline. "Ethiopian and Boeing desire Ethiopian Aviation Academy to be recognised as a global standard for aviation training."
Ethiopian's pilot training, and that of other carriers, came under scrutiny following two 737 Max crashes, including that of an Ethiopian jet in March 2019. Investigators have said a Boeing flight-control software played a major role in both accidents.
The Ethiopian-Boeing deal also involves developing Ethiopia's manufacturing and aftermarket services capabilities, the airline says. "Boeing is committed to developing Ethiopia's manufacturing capability and aftermarket aviation service."
Additionally, the companies will develop "current and future generations of leaders in Ethiopia for Africa".
Ethiopian provides no specific timeline for the project's implementation, but says, "joint multidisciplinary teams have been established to implement the strategic partnership and important milestones have already been registered".
Ethiopian Airlines Group chief executive Tewolde GebreMariam says the partnership will position Ethiopian "as the continent's aviation hub".
Ethiopian's primarily operates Boeing jets, with a fleet including 21 737NGs, four 737 Max 8s, three 767-300ERs, 20 777s and 27 787, according to Cirium data. The carrier also operates 16 Airbus A350s.
Boeing adds on 31 August that Ethiopian "is already a Boeing manufacturing partner, supplying wire assemblies to multiple aircraft programmes". The agreement calls for the companies "to further develop local capabilities in manufacturing and aftermarket services, including an effort to help Ethiopian Airlines enter the thermal/acoustic-insulation blankets manufacturing market".
Story updated on 31 August to include new comments from Boeing.