Boeing plans to hike 777 production from two to three jets monthly this year in response to heightened demand for air freighters.
The Chicago-based company's chief financial officer Brian West disclosed the rate hike on 26 January. He also stresses that Boeing is seeking customers for a still-unlaunched 777X freighter.
The move reflects rebounding optimism by Boeing following several years of pulling back widebody production.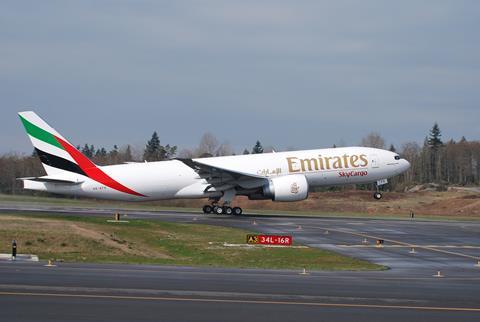 Prior to the pandemic, Boeing had been building five 777s monthly. But in 2020 the company disclosed two rate cuts – first to three jets monthly, then to two.
Boeing delivered 24 777s in 2021.
Boeing has also significantly curtailed 787 production in response to unresolved quality issues, and is wrapping up 747 production. Boeing's 767F output has remained high thanks to its popularity with air shippers.
Now, the airframer is bringing the 777 back up, responding to what West calls "increasing freighter demand". Speaking during Boeing's 2022 earnings call, he notes the airframer took a record number of orders for freighters in 2021. During the year, it landed deals for 84 new cargo aircraft and contracts to convert more than 100 passenger aircraft to air freighters.
West does not specify when the 777 rate hike will take effect but says Boeing will likely deliver roughly as many 777s in 2022 as in 2021.
Also, he notes Boeing is "currently offering the freighter version of our 777X airplane to customers".
Meanwhile, Boeing continues advancing its first 777X variant – the 777-9 – through certification with the Federal Aviation Administration.
As of the end of 2021, Boeing had logged 1,800h of 777-9 flight testing and completed engine and aircraft performance testing, says West.
The team is now working to achieve the 777-9's Type Inspection Authorization, a milestone that proceeds the start of FAA certification flight testing, says West.
Boeing remains on track to deliver the first 777-9 in late 2023, he adds. "The airplane continues to perform in line with our customer commitments."