Boeing says it will resume production in its Puget Sound-area factories after shutting them down in March due to the coronavirus pandemic.
The move puts 27,000 employees of the company's commercial airplanes production lines in the region around Seattle, Washington, back to work. The 737, 747, 767, 777 and 787 programmes, as well as transportation infrastructure, cargo services and national defence missions will be starting up again, the Chicago-based manufacturer says on 16 April.
The company says it will bring workers back in stages, beginning on 20 April through 24 April. By that time, production will have been halted for about a month since Boeing's initial announcement of the closures on 23 March, after several employees had tested positive for coronavirus, with reports surfacing that one had died of the virus.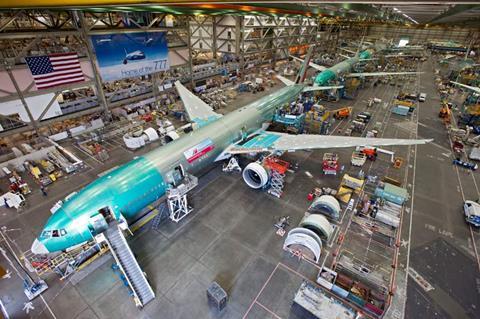 "This phased approach ensures we have a reliable supply base, our personal protective equipment is readily available and we have all of the necessary safety measures in place to resume essential work for our customers," says Boeing Commercial Airplanes chief executive Stan Deal.
In order to maintain the health and safety of the employees, additional cleaning protocols, handwashing stations, visual controls such as floor markings and signage to create distancing between workers, as well as self-health checks are some of the measures the company will introduce when the workers return. It will also stagger shifts in order to minimize the number of workers coming and going at the same time.
Face coverings will be a requirement for employees in the plants, Boeing says.
The company adds that its operations in South Carolina will remain suspended.