Boeing narrowed its first-quarter loss to $561 million, a massive improvement on the $8.4 billion loss it registered in the fourth quarter of last year, and better than the $641 million loss in the same period of 2020.
The results, announced on 28 April, reflect a period during which the company accelerated 737 Max deliveries and, following a roughly five-month pause, resumed 787 shipments.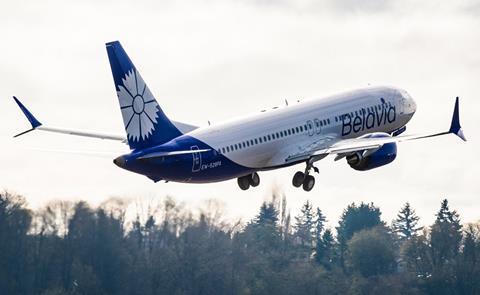 First-quarter revenues stood at $15.2 billion, down 10% year on year.
The company's commercial aircraft business lost $856 million in the first quarter – again, a marked improvement on the $7.6 billion loss registered in the previous quarter. Divisional revenue was $4.3 billion, down 31% year on year.
"In our commercial airplanes business, we were encouraged to see operators begin to invest in the long term again, as we recorded positive net orders in the quarter, including key contracts with Southwest Airlines, United Airlines and Alaska Airlines for 737 Max aircraft," says Boeing chief executive David Calhoun.
Boeing handed over 77 large jets in the first quarter: 63 737s (most of them 737 Max), one 747, five 767s, six 777s, and two 787s.
The Dreamliner deliveries were the first of that type since Boeing paused 787 shipments after October 2020 due to quality issues involving the jets' fuselages.
In April, Boeing also disclosed an electric issue that forced airlines to temporarily pull some of their 737 Max from service. Most affected jets appear to be those delivered since the US Federal Aviation Administration (FAA) lifted the Max's grounding in November 2020. The FAA says the issue impacted 106 737 Max globally.
"We are also working closely with the FAA and customers to address electrical issues identified in certain locations in the flightdeck of select 737 Max airplanes," Boeing says. "We are finalising the plans and documentation with the FAA to outline the process required for operators to return their airplanes to service."
Work required on the affected 737 Max jets will take "a few days per airplane", Boeing adds.
Boeing's commercial aircraft orders turned positive in the first quarter, with the company logging deals for 282 new jets, offset by 213 cancellations.
Boeing's other business units turned profits in the first quarter, offsetting commercial aircraft losses.
The company's Defense, Space & Security division posted a $405 million operating profit, Boeing Global Services earned $441 million and Boeing Capital was $21 million in the black.