Boeing swung to a $160 million profit in the second quarter of 2022, a period marked by significantly more aircraft deliveries and a booming aircraft services business.
The Virginia-based company delivered 121 commercial aircraft in the period, up from 95 the previous quarter and just 79 in the second quarter of 2021.
Boeing generated $16.7 billion in second-quarter revenue, a 2% year-on-year decline that reflects weaker sales in its Defense, Space & Security business.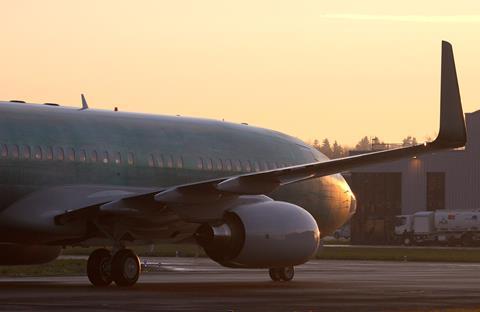 Boeing's $160 million profit in the period compares to a $1.2 billion loss in the first quarter of the year and a $567 million profit in the second quarter of last year.
"We made important progress across key programmes in the second quarter and are building momentum in our turnaround," says Boeing chief executive David Calhoun. "As we begin to hit key milestones, we were able to generate positive operating cash flow this quarter and remain on track to achieve positive free cash flow for 2022."
Despite the company-wide profit, Boeing's commercial aircraft division continues operating in the red. That business lost $242 million in the second quarter, roughly half its $472 million loss one year prior. Boeing Commercial Airplanes has lost $1.1 billion in the first six months of this year.
The company's 787 deliveries remain halted, as they have been for most of the last roughly 21 months.
"The company continues to work with the FAA [Federal Aviation Administration] to finalise actions to resume [787] deliveries, and is readying airplanes for delivery," Boeing says. "The programme is producing at a very low rate and will continue to do so until deliveries resume, with an expected gradual return to five per month."
Boeing Global Services, the company's aftermarket services arm, turned a $728 million profit in the second quarter, up from a $531 million profit in the same period of 2021.
Boeing Defense, Space & Security was also profitable in the second quarter, to the tune of $71 million. But that business's revenue slipped 10% year-on-year to $6.2 billion.
Boeing attributes the dip primarily to "charges on fixed-price development programmes", including a $147 million hit against its MQ-25 unmanned aircraft programme and a $93 million knock against its Commercial Crew space project.
Boeing's second-quarter figures remain significantly depressed from highs in 2018, prior to the 737 Max grounding and the Covid-19 pandemic.
In the second quarter of 2018, for instance, the company brought in $24 billion in revenue – 45% more than the $16.7 billion logged in the second quarter of 2022.