Boeing confirms it will consolidate 787 production at its site in North Charleston, South Carolina and end production of the popular twin-engined widebody in Everett, Washington.
"As our customers manage through the unprecedented global pandemic, to ensure the long-term success of the 787 programme, we are consolidating 787 production in South Carolina," president and chief executive officer of Boeing Commercial Airplanes Stan Deal says in 1 October letter to his division's staff.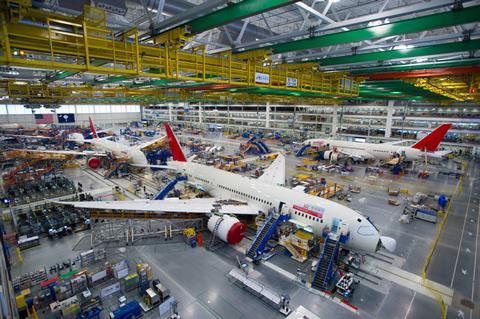 "Over the next several months we will continue to work details of transitioning to a single 787 production location in mid-2021, according to our best estimate," Deal adds.
The move is an effort to cut costs and restructure in the wake of the aerospace industry's recent plunge, which led Chicago-based Boeing to slash production rates, Boeing notes. The company has also been hammered by the grounding of the 737 Max.
"The decision comes as the company is strategically taking action to preserve liquidity and reposition certain lines of business in the current global environment to enhance efficiency and improve performance for the long-term," Boeing says in a statement.
Boeing is also cutting 10% of its workforce, which stood at 161,100 at the end of 2019. Recently, news broke that some 170 mid-level executives are among those leaving.
The company is now "assessing potential impacts to employment in Everett and North Charleston and will communicate any changes directly to its employees", Boeing says. "Our team in Puget Sound will continue to focus on efficiently building our 737, 747, 767 and 777 airplane families."
Deal adds that the move will "ensure we can be effective in a market that will be smaller in the near-term, and one that will have different demands from our customers long-term".
In July, Boeing disclosed it would review its 787 production footprint and study whether to consolidate the jet's manufacturing at one of the two sites. At that time, Boeing also disclosed it was cutting 787 production to six jets monthly in 2021, down from 14 monthly before the pandemic. It also cut 737 and 777 production rates, and competitor Airbus has likewise trimmed commercial aircraft output.
The 787 production "review examined the impacts and benefits to Boeing customers, suppliers, employees and the overall health of the production system," Boeing says. "The 787 study is part of an enterprise review underway to reassess all aspects of Boeing's facility footprint, organisational structure, portfolio and investment mix, and supply chain health and stability."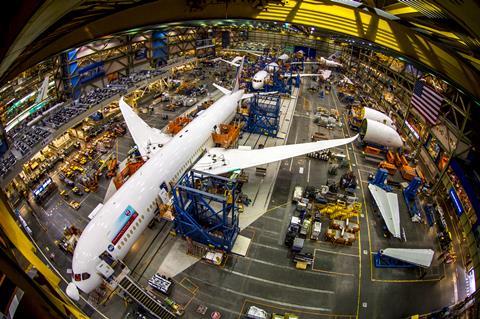 Analysts widely expected South Carolina would win out. They noted Boeing only produces the 787-10 variant in South Carolina and that the site's employees, unlike those in Everett, are not unionised.
"The Boeing 787 is the tremendous success it is today thanks to our great teammates in Everett," Boeing says.
Union International Association of Machinists and Aerospace Workers, which represents Boeing's workers in Everett, had been awaiting news.
On 30 September, the union warned that ending 787 production in Everett "may not result in cost savings" and would put "the company, our members and our community in jeopardy".
The union represented 22% of Boeing's workforce at the end of 2019, or about 35,400 workers, according to Boeing's securities filing.
"We feel strongly that our members and our community have already earned these jobs and proven why the best business decision is to continue production in Everett," the union said.
The union did not immediately respond to a request for comment about the decision.
Boeing began building 787-8s and 787-9s in Everett in 2007 and brought the South Carolina site online in 2010.
"For months, teams studied options, engaged all of our stakeholders, including unions, and considered a number of factors including logistics, efficiency and long-term health of our production system," Deal's note says "It became clear that consolidating to a single 787 production location in South Carolina will make us more competitive and efficient, better positioning Boeing to weather these challenging times."