Boeing will restart some of its Washington state operations, including defence work, as soon as 13 April, signaling a partial end to a shutdown that took effect on 25 March.
The Chicago-based airframer is not yet resuming commercial aircraft production, it confirms.
"The resumption of operations will focus on our defence programs," Boeing says on 10 April.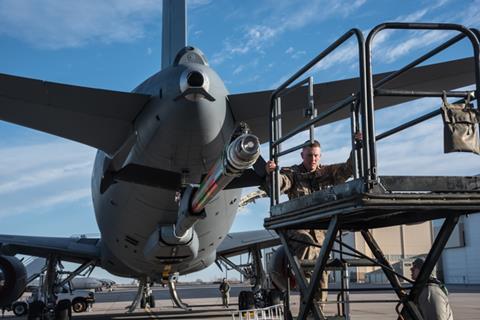 The company's statement says sites to reopen will be in the Puget Sound area, which encompasses Seattle, and Moses Lake, Washington. Work to resume is related to its P-8 maritime surveillance aircraft and KC-46 aerial refueling tanker.
The Moses Lake work is related to "support of 737 Max storage. Other essential labs and support teams will also resume to support critical customer needs," it says.
The partial restart of operations will involve about 2,500 employees.
"Boeing's work supporting the Department of Defense as a part of the defence industrial base is a matter of national security and has been deemed critical," Boeing says. "Additionally, our commercial work supports critical global transportation."
The company shut operations in the Puget Sound region and Moses Lake on 25 March due the coronavirus pandemic.
Boeing says its "phased approach" to restarting operations will help ensure a reliable supply chain and prepare it to restart other operations.
Boeing has taken additional steps to protect staff from coronavirus, including implementing wellness checks, staggering shift start times and adding signs to remind staff to maintain distance from coworkers.
All workers in Washington state will be required to wear face masks, it says.