Boeing padded its backlog with fresh orders for 737 Max and 767 freighters in November, and closed the month without logging any further cancellations.
November was the second consecutive cancellation-free month for the company, which in recent years has seen its backlog continually diminshed as airlines backed out of sales agreements.
During November, the manufacturer took orders for 21 aircraft, including for 18 737 Max placed by an unnamed customer or customers. Additionally, FedEx ordered one 767-300F and Japan ordered two 767-based KC-46 aerial refuelling tankers, the company said on 13 December.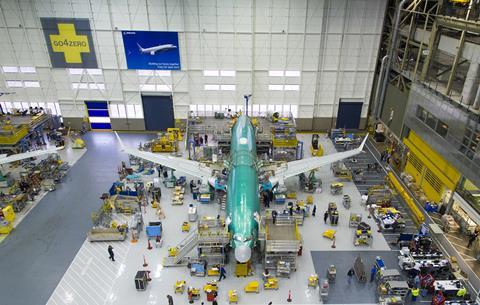 Those deals brought Boeing's total 2022 orders through November to 685 aircraft, including 548 737s and 137 widebody jets. Customers have also cancelled orders for 114 jets this year, the most recent in September.
November was a strong month for deliveries, with Boeing handing over 48 aircraft, up from 35 in October.
Shipments included 33 737s, among them 32 737 Max for various airlines and one 737NG-based P-8 military surveillance jet for South Korea.
Also in November, Boeing delivered 15 widebody jets, including one 747, six 767s, two 777s and six 787s.
Boeing's backlog also increased in November by one aircraft due to accounting adjustments, it says.
The changes left Boeing, at the end November, with a backlog of 4,415 aircraf: 3,578 737s, one 747, 108 767s, 316 777s and 412 787s.