Boeing delivered 10 commercial aircraft in June, bringing to 70 the number of jets it delivered in the first half of 2020, down 71% from 239 deliveries in the same six-month period last year.
The Chicago-based airframer also logged 60 737 Max cancellations in June, bringing to 382 the number of aircraft nixed from Boeing's backlog during the first half of a year defined by the coronavirus downturn.
Boeing's June figures, released 14 July, include a bright spot. The airframer received one order during the month from FedEx for a 767 Freighter, which Boeing says reflects continued strong demand for cargo aircraft.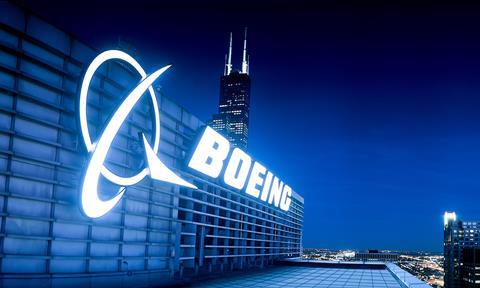 The 10 June deliveries included seven commercial aircraft, among them one 747, two 767Fs, one 777 and three 787. Boeing also delivered three defence aircraft in June, including one 767-based KC-46 military tanker and two 737NG-based P-8 maritime surveillance aircraft.
The company's second quarter deliveries stand at 20 jets, down 78% from 90 deliveries in the second quarter of 2019.
The airframer says travel restrictions implemented to curb the spread of Covid-19 have hindered customers' ability to receive aircraft.
"Our commercial airplane deliveries in the second quarter reflect the significant impacts of the Covid-19 pandemic on our customers and our operations that included a shutdown of our commercial airplane production for several weeks," says Boeing chief financial officer and head of enterprise operations Greg Smith.
Market conditions are "informing current and future production rates and any further adjustments as needed to balance supply and demand", he adds.
Smith says Boeing's strong defence and space businesses "will continue to provide some stability as we navigate through the pandemic and rebuild stronger on the other side".
MAX CANCELLATIONS
Of the 60 Max cancellations Boeing logged in June, 13 had not previously been disclosed.
Among those are two jets cancelled by unidentified customers, six cancelled by financially struggling Romanian carrier Blue Air, and five cancelled by California-based lessor Aviation Capital Group, a unit of Japan's Tokyo Century Corporation.
Cancellations of another 47 Max had previously been disclosed. Those include three jets cancelled by lessor Avolon, 14 cancelled by Avolon-owned CIT Aerospace and 30 cancelled by lessor BOC Aviation.
Cancellations reflect efforts by leasing companies to balance supply with demand amid a troubling time for the airline and aerospace industries, Boeing says.
To date this year, order cancellations and conversions have reduced Boeing's backlog by 382 aircraft, most of them Max.
The company has taken 59 aircraft orders this year.
In addition to the cancellations, Boeing removed 123 jets from its backlog in June by to comply with accounting standards.
Boeing shifted 124 jets, including five 787s and 119 737 Max, from its backlog into a special accounting bucket reserved for orders that remain on Boeing's books but that Boeing has less confidence will close.
Boeing says the majority of those Max are on order with Norwegian, which said in late June that it was cancelling 92 Max orders.
Boeing also shifted one jet – a 777 – out of the accounting bucket and back into its backlog.
The June changes leave Boeing's total backlog at 4,552 aircraft, down 192 from 4,744 at the end of May. The 4,552 aircraft include 3,595 737s, 12 747s, 89 767s, 355 777s and 501 787s.