Boeing's latest 737 quality problem will leave airlines with roughly 9,000 fewer seats than planned this summer.
That is according to Boeing chief executive David Calhoun, who addressed the fuselage-component issue during Boeing's annual shareholder meeting on 18 April.
Boeing on 13 April said a manufacturing quality problem involving fittings on some 737s had forced it to halt deliveries of some of the narrowbodies.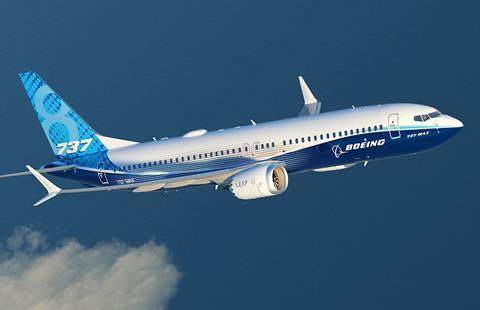 The issue "removes approximately 9,000 seats from our customers' summer schedules, and we apologise to all of them," Calhoun now says. "We are working transparently and diligently through this process."
Calhoun adds that Boeing determined "very quickly exactly how many airplanes were affected", but does not specify that figure.
However, the 9,000-seat estimate suggests dozens of jets will be impacted.
"This is not a safety of flight concern, and the in-service fleet can continue to operate safety," Calhoun says.
He does not address potential impact on Boeing's target to deliver 400-450 737s this year, but does say the company's "long-term" delivery goals for 2025 and 2026 remain unchanged.
Also, Boeing has not altered its planned 737 production rate increases nor changed its scheduled acquisition of components from suppliers, he adds.
The latest issue involves problems with "two fittings in the aft fuselage section of certain 737 airplanes", says Calhoun, noting those components had been manufactured using a "non-standard" process. Spirit AeroSystems supplied the components.
Affected jets include 737 Max 7s, Max 8s, high-seat-density Max 8-200s and 737NG-based P-8 military surveillance jets, Boeing says. The Max 7 is not yet certificated, but Boeing has aimed to have it approved by the Federal Aviation Administration this year.
The company continues to deliver unaffected 737s, which include Max 9s.
"The issue is understood… We know what we have to do," Calhoun says. "This is an airplane-by-airplane evaluation."