Bombardier landed $1.3 billion in new aircraft orders in the first quarter of 2022 amid what executives describe as a continuing hot streak for business jet sales.
Still, the Montreal airframer lost $287 million in the period, due largely to financing-related expenses.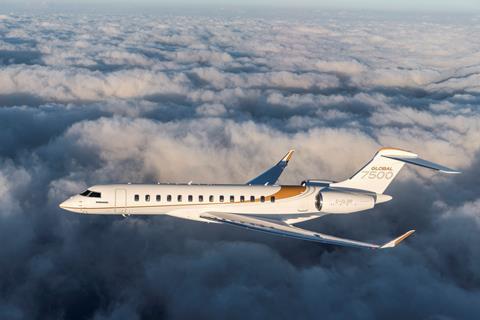 "The market remains extremely active. We have seen good pick-up of [orders] through the quarter," Bombardier chief executive Eric Martel said on 5 May.
He notes that business jet flight hours are tracking about 20% higher than in pre-pandemic 2019.
Bombardier closed March with an order backlog valued at $13.5 billion, up 11% from $12.2 billion one year earlier.
Strong demand for new jets partly results from a historically unprecedented short supply of used aircraft – and inflated used-aircraft prices, says Martel. "Since there is no pre-owned availability and demand remains strong, people are knocking at our door."
Bombardier's first-quarter revenue slipped 7% year on year, to $1.2 billion; deliveries also declined, to 21 in the first quarter, from 26 in the same period of 2021.
But the airframer still expects to hit its goal of delivering 120 aircraft in 2022. To get there, Martel says, "There is going to be some catch-up" in the third and fourth quarters of the year.
The company's $287 million first-quarter loss reflects financing expenses of $376 million. By comparison, Bombardier lost $251 million in the first quarter of 2021.
Bombardier has not signalled any let-up in demand, but Martel cites several factors that could potentially derail the sector's rapid growth.
"Inflation… potentially followed by a downturn, could [slow] down demand", as could a broader conflict arising from Russia's invasion of Ukraine.
Still, Martel says Bombardier is prepared, saying its decision to stop producing Learjets allowed it to focus on the more-stable large-cabin segment.
"We exited the light [jet] market… We restructured the business to be less volatile," he says.