Bombardier is signalling a long-term commitment to Wichita by establishing its US headquarters there and by recasting its Wichita-based defence business – moves coming shortly after the airframer stopped producing Learjets in the city.
The changes, revealed by the company on 19 April, align with Bombardier's broader plan to significantly expand its Wichita aircraft services business through transforming former Learjet production buildings into service hangars.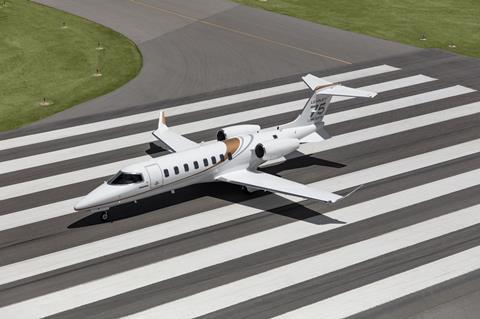 Bombardier has not clarified where its US headquarters were prior to the Wichita move; however, in 2003, the company said its US base was in the Dallas-Fort Worth area.
"The decision to locate its US headquarters in Wichita was a logical choice given the site's deep-rooted history in aviation, the tremendous opportunities for growth in the maintenance, repair and overhaul, and defence sectors, and its strong and talented workforce," Bombardier says.
"The new US headquarters is a key pillar in Bombardier's long-term strategy for its presence and growth in the USA," it adds.
Bombardier delivered its last Wichita-built aircraft, a Learjet 75, on 28 March.
Last year, while winding down Learjet production, Bombardier said it intended to transform its Wichita operation into an aftermarket "Centre of Excellence". The plan called for transitioning Learjet assembly hangars into service bays, providing capacity to capture more service work from the roughly 2,000 Learjets still flying, and to offer more aftermarket options for Challenger and Global business jets.
Doing so would help Bombardier reach a broader goal of expanding its aftermarket business so that by 2025 the segment generates 27% of company revenues – or estimated $2 billion, up from $1.2 billion in 2021. To hit that target, Bombardier says it must control about half of all worldwide Learjet, Challenger and Global aftermarket work.
Bombardier says it now has seven services hangars in Wichita, up from three several years ago, and that it has plans to create more than 180 additional jobs in the city.
The size of the airframer's Wichita workforce, however, remains unclear: although it is creating new roles, it previously said it would cut 250 positions at the site on the back of Learjet's closure.
The company's Wichita operation also includes flight-test centres, where it "performs testing and certification of aircraft upgrades on all new Bombardier aircraft programmes".
In parallel, the manufacturer has renamed its Wichita-based military business as "Bombardier Defense", from "Specialized Aircraft" previously.
"The expanding defence market is a key area of growth for the company," Bombardier says. "This centre of excellence for defence applications, technology and innovation fully leverages the Wichita workforce and local industry."
In disclosing the name change, Bombardier notes it has received an undisclosed number of "firm orders" from the US Air Force for "modified versions" of Global 6000 business jets. The company does not provide additional details, such as how many new commitments it has received, and when.
However, Bombardier notes that in 2021 the USAF contracted with Bombardier to acquire up to six E-11As – Global 6000s outfitted to carry a communications platform called the Battlefield Airborne Communications Node (BACN).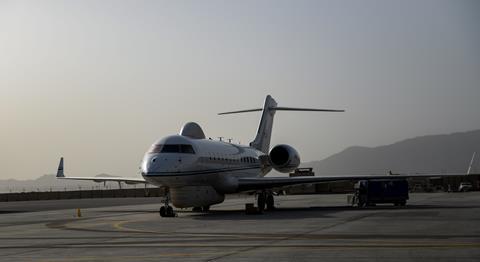 At the time, the agreement included one firm order and five options; Bombardier estimated the contract could be worth as much as $465 million.
"Bombardier Defense will continue to leverage Wichita's highly reputed expertise to provide in-service support and upgrades to the USAF's expanding BACN fleet, underscoring Bombardier's status as a key US aerospace employer," the company says on 19 April.
Bombardier has also appointed Tonya Sudduth as head of US strategy. Sudduth had been the company's vice-president of operations in Wichita.
Update as of 21 April.
Bombardier confirms on 21 April that the new USAF orders were for Global 6000-based E-11As, that it received the new orders "in the weeks" prior to 19 April and that the orders were conversions of the five Global 6000 purchase options taken by the USAF in 2021. The USAF has now exercised three of its five options, Bombardier says. The company employs about 1,100 staff in Wichita, "approximately the same number" as in 2021, it adds. "Bombardier has transferred many production employees to other positions at the site and we currently have nearly 200 open positions we are recruiting for across the site."
Story also updated to note that Bombardier has "located", not "relocated", its headquarters in Wichita. The company says it had not previously "designated" a US headquarters.