Bombardier has made several significant shifts to its senior management structure, naming new executives to head sales, aftermarket operations, defence products and supply chain.
In disclosing the changes on 7 February, Bombardier chief executive Eric Martel describes the moves as continuing Bombardier's transformation into a company solely focused on manufacturing and supporting business jets.
"It is the right time to thoughtfully reshape key leadership functions to ensure the solid foundation we have set fully carries our momentum well into the future," says Martel.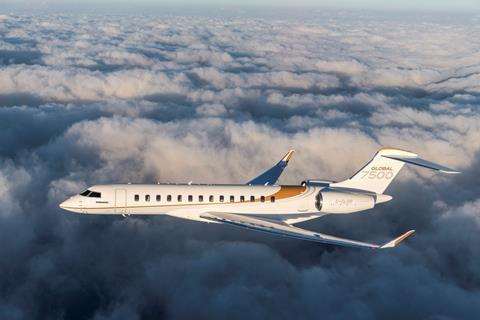 The staff changes, all effective on 20 February, include Jean-Christophe Gallagher, now Bombardier's executive vice-president of services, support and corporate strategy, becoming executive vice-president of aircraft sales and Bombardier Defence.
In that role, Gallagher will oversee the company's entire sales team and its defence business. Bombardier in 2022 renamed its Wichita-based defence operation as "Bombardier Defence" as part of a recasting aimed at expanding sales of military-configured business jets.
Bombardier says Michel Ouellette, currently executive vice-president of engineering, programme management and defence, will become executive vice-president of engineering and product development before retiring at the end of June.
Current executive vice-president of operations Paul Sislian will also shift as part of the restructuring, taking the position of executive vice-president of aftermarket services and strategy.
Bombardier senior vice-president of transformation, operational excellence and information technology (IT) David Murray will assume added responsibility for aerostructures, assembly and aircraft completions, Bombardier says. Murray will take the new title of executive vice-president of manufacturing, IT and operational excellence system.
Bombardier says combining those functions under Murray's leadership will help the company focus more intently on digital technologies.
Additionally, former Bombardier employee Eric Filion will return to the company as executive vice-president of programmes and supply chain, a new role involving oversight of Bombardier's relationships with suppliers.
Filion most-recently worked as chief operating and customer experience officer at electric utility Hydro-Quebec. Previously, had had overseen Bombardier's facility that produces Challenger business jets.
Bombardier in recent years shed several assets – including train and energy businesses and its CRJ and Dash 8 commercial aircraft programmes – to focus entirely on business jets.
Bombardier reports full-year 2022 results on 9 February.