US aerospace companies are progressing their supersonic civil aircraft projects, with Boom Supersonic planning to rollout a demonstrator aircraft this year and Aerion Supersonic launching an effort to help develop clean synthetic fuel.
On 7 October, Denver-based Boom plans to publicly unveil XB-1, a supersonic aircraft the company is developing to demonstrate the design for a conceptual supersonic commercial jet called Overture.
Boom has been advancing XB-1 development amid the coronavirus pandemic. In recent months, workers completed static wing-load tests, mated XB-1's wings to its primarily-titanium fuselage, built the aircraft's vertical stabiliser and completed landing gear tests.
The 7 October rollout event will be webcast owing to the pandemic, the company says on 8 July.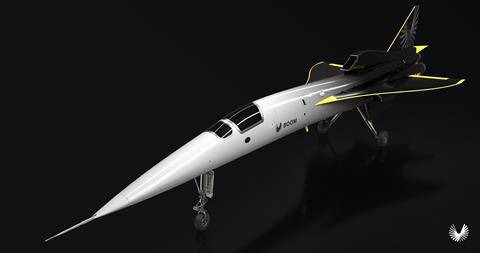 XB-1 will be one-third scale of Overture, will be powered by triple GE Aviation J85-15 engines and will help Boom test aerodynamics, carbon-fibre construction technologies and supersonic propulsion, the company says.
Boom, which had $160 million in funding as of April, has said it intends to conduct XB-1 ground and low-speed taxi tests at Centennial airport near Denver.
The company hopes to begin flight tests in 2021. It will conduct those flights from Mojave Air & Space Port in California with assistance from flight testing company Flight Research.
Boom intends XB-1 to lead to development of Overture, which will have capacity for 55-75 passengers and fly at Mach 2.2, Boom has said. The company expects Overture to fly in the mid-2020s, sell for $200 million each and have economics allowing airlines to sell seats at prices comparable to traditional business-class fares.
Boom competitor Aerion says on 8 July that it has signed an agreement with Canadian company Carbon Engineering to develop a clean-energy synthetic fuel that would power its in-development supersonic business jet, AS2.
Aerion, Boom and third competitor, Spike Aerospace, have been vocal about their commitment to clean-engine technology.
Aerion intends for AS2's triple GE Affinity powerplants to burn synthetic fuel manufactured through Carbon Engineering's "direct air capture" process.
The process specifically involves extracting carbon dioxide from air by using large fans to pull air over a potassium hydroxide solution, which binds to CO2, Carbon Engineering says. That CO2 can then be combined with hydrogen to create synthetic fuel with "little or no carbon footprint", it says.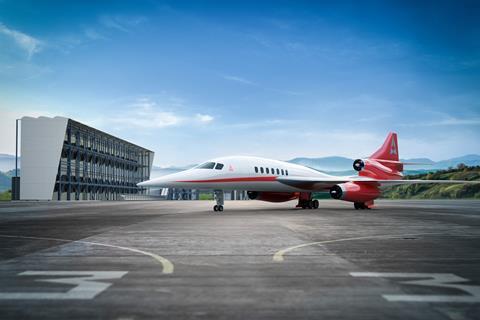 Aerion and Carbon Engineering have signed a memorandum of understanding "to explore ways in which CE's synthetic fuel… will power Aerion's AS2".
The companies will "also explore a potential collaborative project" to construct a synthetic fuel production facility for the AS2 programme.
"This provides a way to de-carbonise sectors of transportation that are difficult to electrify and that require the high energy density of liquid fuels," Aerion says.