The Covid-19 pandemic definitely hit commercial aerospace harder than other aviation segments, though the fallout on private and business aviation was not insignificant.
In 2020, deliveries of private and business fixed-wing aircraft slipped about 10% year on year, with business-jet hand offs falling about 20%, according to the General Aviation Manufacturers Association's (GAMA) annual aircraft shipment report, released 24 February.
"The Covid-19 pandemic negatively impacted general aviation and stifled the industry's growth," says GAMA chief executive Pete Bunce. "While we continue to face headwinds globally, all signs point to strong demand for our products and services that are unfortunately being constrained by pandemic-induced supply chain limitations and a vast array of disjointed barriers to air travel across national borders."
During 2020, manufacturers delivered 2,399 fixed-wing business- and private-aviation aircraft, including piston-powered types, turboprops and business jets.
That figure is down 9.7% from 2,658 deliveries in 2019, according to GAMA.
Those 2020 deliveries were worth about $20 billion, which is 14.8% less than GAMA pegged the value of 2019 deliveries.
By segment, aircraft makers handed over 644 business jets in 2020 (down 20.4%), 443 turboprops (down 15.6%) and 1,312 piston-powered aircraft (down only 0.9%), the trade group reports.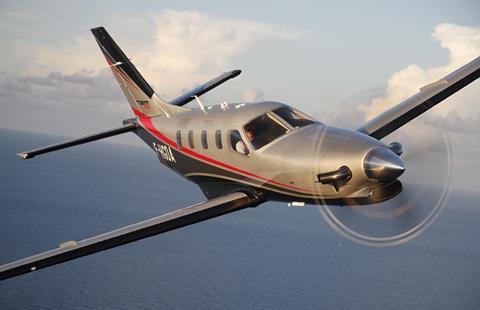 The decline lessened in the fourth quarter of 2020, when manufacturers delivered 867 private and business aircraft, down just 5.5% year on year. Business jet deliveries during the fourth quarter declined 9.2%, to 266.
"It is encouraging to see that segments of our industry saw a solid rebound in the fourth quarter of 2020," says Bunce. "In 2021, it will be important for the general aviation industry to work together with our commercial sector colleagues to keep our interlinked but very fragile supply chain secure, while continuing to engage global regulatory authorities."
The helicopter segment also suffered in 2020, with manufacturers delivering 674 rotorcraft of all types, down 17.7% year on year. Those aircraft were worth $2.7 billion, or 16.2% less than the value of deliveries in 2019, GAMA says.
Deliveries of piston-powered helicopters dipped 20.7% to 142 units year on year in 2020, while turbine helicopter hand overs fell 16.9% to 532 aircraft.
GAMA excluded Leonardo helicopter deliveries from its figures because that manufacturer has not yet released fourth-quarter 2020 delivery data.