Luxembourg freighter specialist Cargolux Airlines has ordered 10 Boeing 777-8 Freighters, finalising an agreement disclosed by the companies at July's Farnborough air show.
As part of the deal, the cargo carrier also secured options for a further six of the type, which it intends to use to replace its ageing 747-400Fs, Boeing said on 12 October.
"The agreement we signed today will consolidate Cargolux's position as a global leader of air freight services," says Cargolux chief executive Richard Forson.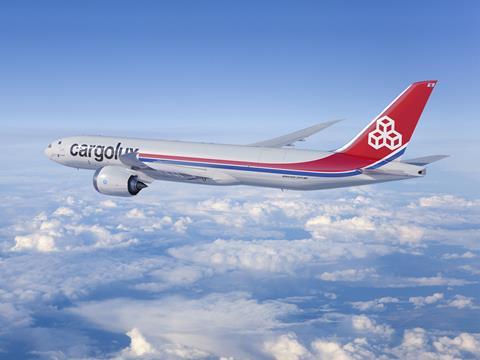 Boeing says the jets will help Cargolux improve operational efficiency, noting the type will be 30% more fuel efficient, and cost 25% less to operate per tonne of cargo, than the 747-400F.
Cargolux's current fleet includes a mix of 27 747-400Fs and newer 747-8Fs.
Powered by GE Aviation GE9X powerplants, the 777-8F will have range of 4,410nm (8,167km), carry a 112,300kg (247,580lb) payload, and boast a 365,160kg maximum take-off weight, according to the airframer's preliminary specification.
The aircraft will have composite wings spanning 71.8m (235.6ft) and capacity to carry 31 cargo pallets on its main deck and 13 in its lower hold.
Boeing launched 777-8F development in January and says it has logged orders for more than 50 of the type. Other customers include Lufthansa and launch operator Qatar Airways, which expects to receive its first aircaft in 2027.