Taiwan's China Airlines has ordered 16 Boeing 787-9s and taken options to buy another eight, firming an agreement the airline disclosed in August.
Boeing on 28 September confirmed that China Airlines has now "finalised" the order. The manufacturer does not specify when it expects to deliver the aircraft and declined to comment, deferring to China Airlines.
The carrier could not be reached immediately but previously said it expects to begin receiving 787s in 2025.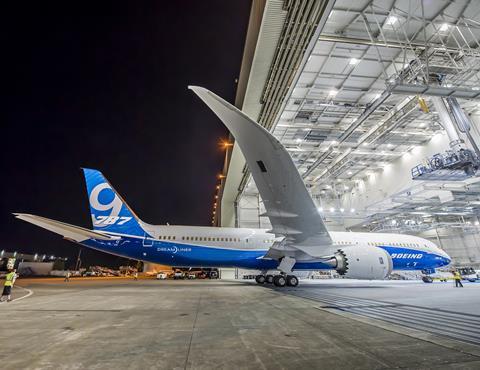 "We are excited to introduce the 787-9 Dreamliner into our operations as we continue to upgrade our fleet with more modern, fuel-efficient airplanes," says China Airlines chairman Hsieh Su-Chien. "Adding the state-of-the-art 787 will help us reduce carbon emissions, while also providing our customers with unmatched levels of comfort."
Confirmation of the order brings clarity to China Airlines' 787 acquisition plan.
On 30 August, the airline said it had placed an "order" for 16 787-9s powered by GE Aviation GEnx turbofans, and taken the eight purchase options, with the 2025 delivery start. The carrier said in a stock filing that the jets would cost $4.6 billion.
But one day later, Boeing told FlightGlobal the agreement had not been finalised and therefore did not amount to a firm order.
Now, it does, Boeing says.
The US manufacturer notes that China Airlines holds orders for a total 22 Boeing aircraft, including the 16 787s and six 777 Freighters.
The carrier's fleet currently includes four 777Fs, 10 777-300ERs, 15 747-400Fs, nine 737-800s, eight A321neos, 19 A330s and 14 A350s, according to Cirium fleets data.
China Airlines will use its incoming 787s to replace the A330s, which it will phase out of service, the carrier said in August.
The airline also previously said it had secured the option to convert its 787-9 orders to the larger 787-10, though that provision remains unconfirmed.