China's civil aviation regulator has issued an airworthiness directive that clears the way for Boeing's 737 Max aircraft to return to flight operations in that country after almost three years.
It is one of the last major jurisdictions to approve the jet's return after two accidents grounded the type worldwide in early 2019.
That said, the Civil Aviation Administration of China does not give a date as to when the aircraft can begin passenger operations.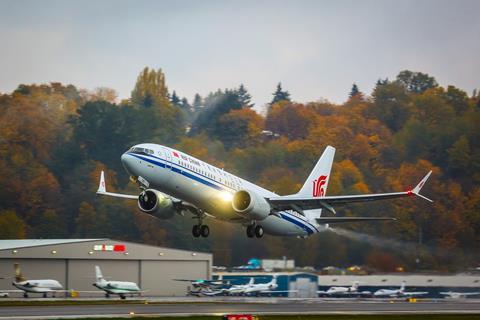 "CAAC completed review of the actions proposed by Boeing, including flight control software design change, Max display software design change, aircraft flight manual revision, horizontal stabilizer trim wire bundle routing change, etc," the CAAC writes in the directive, published on 2 December.
"After conducting sufficient assessment, CAAC considers the corrective actions are adequate to address this unsafe condition."
Boeing welcomes the approval, calling it "an important milestone toward safely returning the 737 Max to service in China".
"Boeing continues to work with regulators and our customers to return the airplane to service worldwide," the Chicago-based airframer adds.
China was the first country to ground the aircraft type after two fatal crashes in 2018 and 2019 killed 346 people. The 737 Max returned to service in late 2020, beginning with the USA and Brazil. Most recently, South Korea lifted the operational ban on 22 November.
Boeing adds that, to date, more than 180 out of 195 countries have lifted the Max's grounding.
Aerospace analysts have said the slow pace of the Max's certification by China and Russia reflect broader geo-political disputes between the USA and those countries, China in particular.
The Federal Aviation Administration had reported on 3 November that it had shared with China and Russia all technical data relevant to the 737 Max's re-certification, and was "meeting the…civil aviation authorities on a regular basis" to attempt to clear up the concerns.
Boeing completed a 737 Max flight test in China during the third quarter and chief executive David Calhoun said in late October that the company was working "toward [Chinese] approval by the end of the year, with a resumption of deliveries to follow in the first quarter of next year".
At the time, he added that about one-third of the 370 Max currently stored at the manufacturer are for delivery to Chinese airlines.
According to Cirium fleets data, about 94 jets operated by 11 carriers in China, including Xiamen Airlines, Air China, China Southern Airlines, Hainan Airlines and Shanghai Airlines, among others, are in storage.