Chinese electric air taxi developer AutoFlight has opened a US operation and hired former Eviation chief executive Omer Bar-Yohay to lead it.
The move is an effort by AutoFlight to establish a foothold in the important US market.
Bar-Yohay left Eviation in February after steering it through development of its electric Alice aircraft, which achieved first flight on 27 September. He became Shanghai-based AutoFlight's president at the beginning of the month, the company said on 5 October.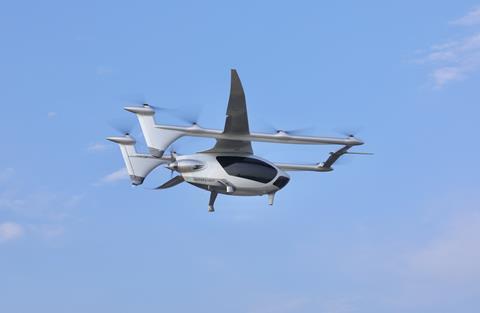 AutoFlight, which already has a design centre in Germany, also hired air taxi veteran Chad Cashin as chief commercial officer. Cashin formerly led business development at Uber Elevate and its corporate acquirer Joby Aviation.
"The American market is the biggest and most significant for this to kick off," Bar-Yohay says. "The beautiful thing about AutoFlight is that [they] are the market leader no one has heard about."
He says AutoFlight has made significant progress developing its electric vertical take-off and landing (eVTOL) aircraft – but largely out of the public eye. "When I dug in deeper, I was very surprised," he adds.
AutoFlight's test aircraft have completed "over 100 full-transition flights" – the crucial manouevre changing from vertical to forward flight, the firm says.
It is developing an air taxi that will carry four people – one pilot and three passengers – on flights up to about 108nm (200km).
It will "be operated like a helicopter is operated today… but at a much lower cost", Bar-Yohay says.
The design uses eight lifting propellers mounted on booms extending from its wings and two pusher propellers. AutoFlight's test fleet includes sub-scale demonstrators and two full-scale prototypes, and it plans to fly another prototype within weeks, Bar-Yohay says.

AutoFlight chose a hangar at California's Napa County airport for its new US base. The firm aims to begin flying its "Prosperity I" demonstrator early next year in the USA, with certification pegged for late 2025 and service entry in 2026, Bar-Yohay says.
It is designing an aircraft to Western standards and intends to certificate its aircraft in Europe and the USA.
Bar-Yohay says AutoFlight's strength lies its long experience developing drones and radio-controlled aircraft, and its established Chinese supply chain and manufacturing footprint.
Competitors, he says, face the incredibly difficult task of creating such infrastructure from scratch.
AutoFlight's three Chinese sites specialise in building composite components and propulsion systems, including motors and composite propellers.
It plans to complete most eVTOL design work in house, including electrical-system integration. Western companies will supply systems like flight controls and avionics, Bar-Yohay says.
AutoFlight recently opened a research, design and certification site in Augsburg, led by former Airbus Helicopters programme manager Mark Henning.
"We are… trying to play to the strengths of each [part] of the company," Bar Yohay says.
He calls the eVTOL design "very, very simple to build" and says they will sell for about $1 million each. It is "one of the only specimens out there… that could hit a price point that makes any economic sense".
But Bar-Yohay declines to disclose AutoFlight's finances, simply saying it "is well funded to get where it should go". In 2021, the company said it had landed a $100 million investment from Germany's Team Global Management.
Bar-Yohay takes up the new role after co-founding Eviation and leading it through development of its Alice prototype. He left in February, saying he and Eviation's majority owner Clermont Group had different views on how to proceed.
Bar-Yohay initially remained involved as an Eviation board member but has since stepped down from that post to focus on AutoFlight. He retains an ownership stake in Eviation, however.